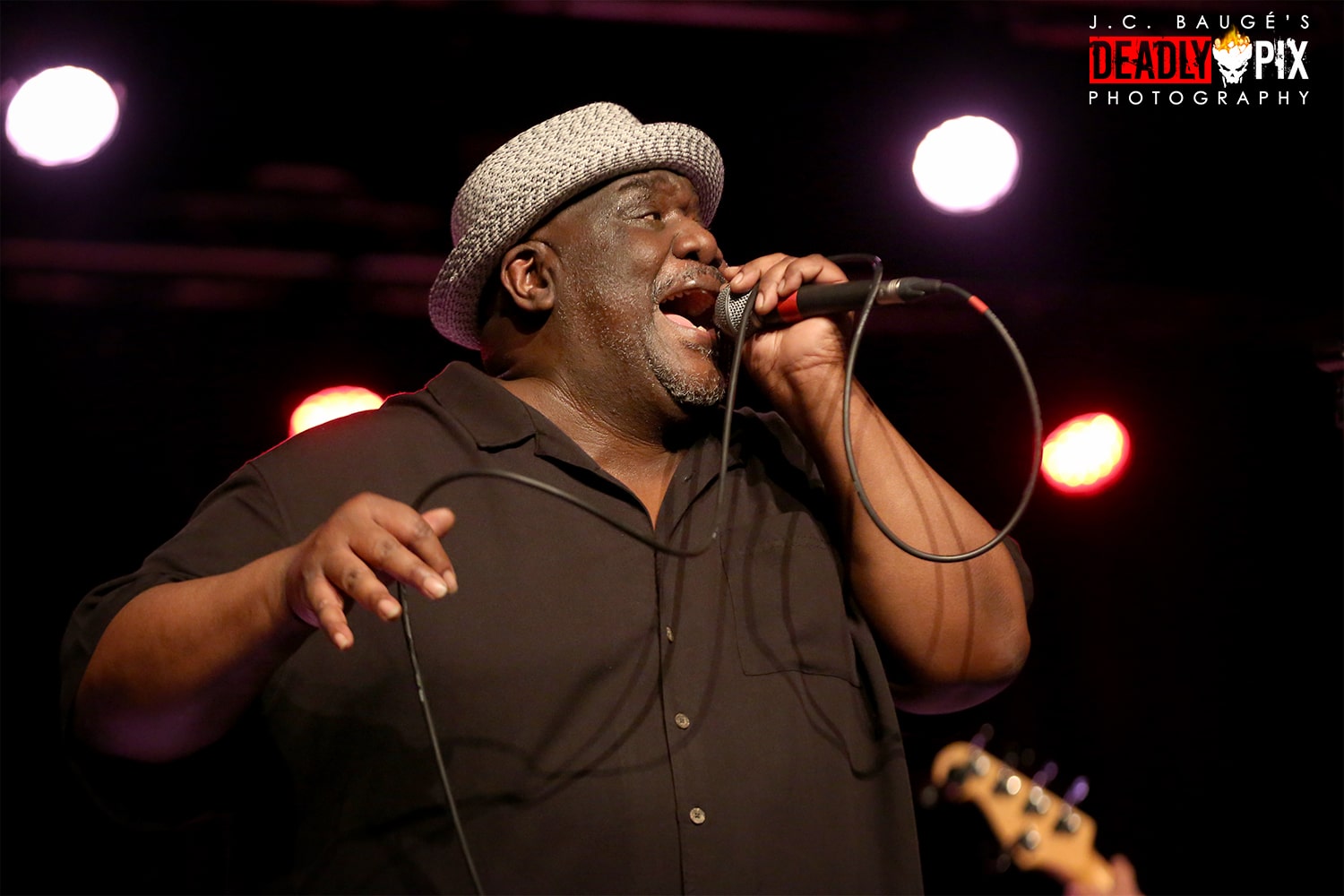 ALTERED FIVE BLUES BAND
Théâtre Charcot, Marcq-en-Barœul, 09 mars 2023
Texte et photos: Jean-Christophe Baugé – BLUES MAGAZINE/ JAZZ NEWS/ LEGACY (DE)/ METALLIAN/ PARIS-MOVE/ ROCK & FOLK
Formé en 2002 à Milwaukee, Wisconsin – les pionniers du Delta blues Charley Patton et du Texas blues Blind Lemon Jefferson ont gravé sur cette même rive gauche du lac Michigan leurs premières faces chez Paramount Records à Port Washington – Altered Five Blues Band tire son nom de la quinte augmentée/ diminuée d'un accord, synonyme de forte tension harmonique. Jeff Taylor, chanteur baryton et principal de collège, et Jeff Schroedl, guitariste et vice-président des éditions musicales Hal Leonard, perpétuent un blues populaire, fait d'originaux depuis 2010, abonné aux nominations et plus récemment aux victoires ("Cookin' In My Kitchen", chanson de l'année 2018 aux Independant Music Awards). Le partenariat n'est pas sans évoquer celui d'Howlin' Wolf avec Hubert Sumlin. Holler If You Hear Me, produit par le fidèle Tom Hambridge, est le dernier de six albums dont chacun s'est mieux vendu que le précédent. Le sujet? Personne, et potentiellement tout le monde. Le son? Suffisamment subtil – nuancé, retenu, dynamique – pour emporter l'auditeur. L'approche de Shroedl est 100% fenderienne (Stratocasters de 1962 et 66 en direct dans un Super Reverb poussé à 8) pour percer dans le mix et ainsi exister aux côtés des claviers de Raymond Tevich (studio)/ Steve Huebler (live) et de l'harmonica de Jason Ricci, invité donc exempté de tournée. Son solo du morceau-titre est un gumbo de modes majeurs et mineurs issus de la country, du blues et du jazz, et témoigne d'un amour immodéré pour Charlie Christian, B.B. King ou Joe Pass.
Sur les blues lents, les notes s'étirent et copient les inflexions de la voix: "It's not the meat, it's the motion" (ce n'est pas la taille qui compte, c'est la façon de s'en servir) explique l'intéressé. Le planning de tournée surchargé des "A5" témoigne de l'intérêt des programmateurs de festivals, des deux côtés de l'Atlantique, depuis la mise en parole officielle du "Crossroads" de Robert Johnson, rebaptisé "Three Forks" sur Charmed & Dangerous en 2017.
Setlist :
01. Right On, Right On (Ten Thousand Watts, 2019)
02. Stay Outta My Business (Cryin' Mercy, 2014)
03. Mischief Man (Ten Thousand Watts, 2019)
04. Great Minds Drink Alike (Ten Thousand Watts, 2019)
05. Dollars & Demons (Ten Thousand Watts, 2019)
06. If You Go Away, She Might Come Back (Holler If You Hear Me, 2021)
07. Guilty Of A Good Time (Holler If You Hear Me, 2021)
08. Gonna Lose My Lady (Charmed & Dangerous, 2017)
09. Heavy Love (Heavy Love, 1998)
10. Ten Thousand Watts (Ten Thousand Watts, 2019)
11. On My List To Quit (Charmed & Dangerous, 2017)
12. I'm In Deep (Cryin' Mercy, 2014)
13. Angel Of Mercy (Wander This World, 1998)
14. Too Mad To Make Up (Ten Thousand Watts, 2019)
15. Three Forks (Charmed & Dangerous, 2017)
16. Holding On With One Hand (Holler If You Hear Me, 2021)
17. Full Moon, Half Crazy (Holler If You Hear Me, 2021)
18. Give Me One Reason (New beginning, 1995)
19. Charmed & Dangerous (Charmed & Dangerous, 2017)
20. Holler If You Hear Me (Holler If You Hear Me, 2021)
Rappel
21. With A Little Help From My Friends (Sgt. Pepper's Lonely Hearts Club Band, 1967)
Musiciens :
Jeff Taylor : chant
Jeff Schroedl : guitare
Steve Huebler : claviers
Mark Solveson : basse
Matt Liban : batterie
Production :
Jazz en Nord/ Marcq-en-Barœul