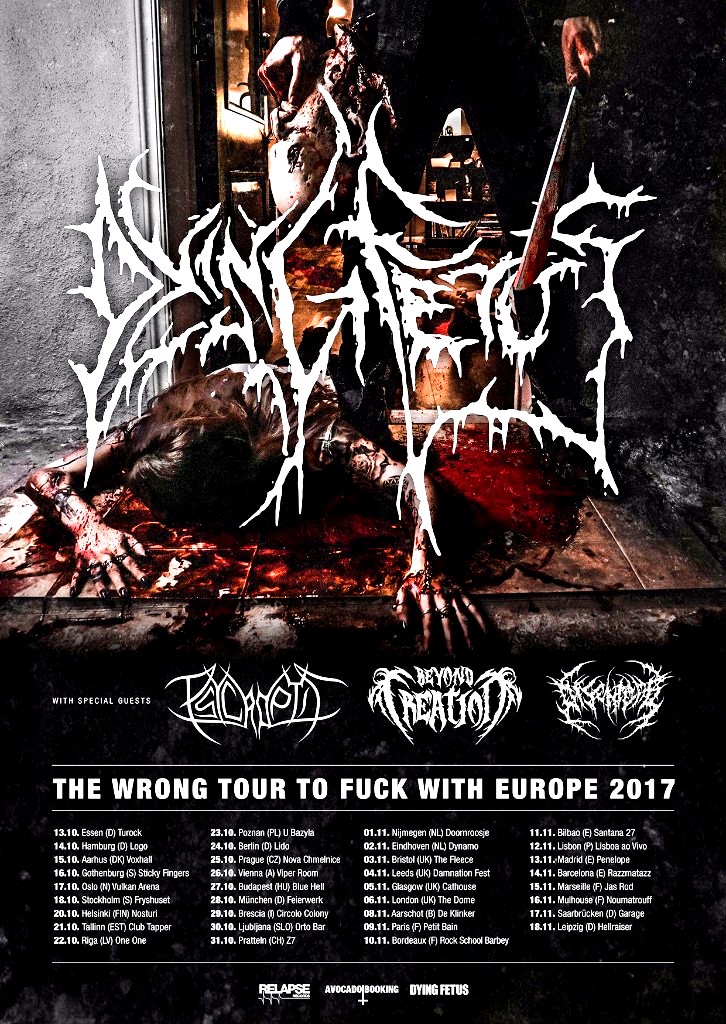 Beyond Creation Tour & "Earthborn Evolution" album.
.
BEYOND CREATION are about to embark on an impressive string of dates in support of headliner DYING FETUS in Europe this Friday.
The Canadian masters of progressive technical death metal will be joined by PSYCROPTIC and DISENTOMB across the continent and the UK.
.
BEYOND CREATION
+DYING FETUS +PSYCROPTIC +DISENTOMB
13 Oct 17 Essen (DE) Turock
14 Oct 17 Hamburg (DE) Logo
15 Oct 17 Aarhus (DK) Voxhall
16 Oct 17 Göteborg (SE) Sticky Fingers
17 Oct 17 Oslo (NO) Vulkan Arena
18 Oct 17 Stockholm (SE) Fryshuset Klubben
20 Oct 17 Helsinki (FI) Nosturi
21 Oct 17 Tallinn (ES) Club Tapper
22 Oct 17 Riga (LV) One One
23 Oct 17 Poznan (PL) U Bazyla
24 Oct 17 Berlin (DE) Lido
25 Oct 17 Praha (CZ) Nova Chmelnice
26 Oct 17 Wien (AT) Viper Room
27 Oct 17 Budapest (HU) Blue Hell
28 Oct 17 München (DE) Feierwerk
29 Oct 17 Brescia (IT) Circolo Colony
30 Oct 17 Ljubljana (SI) Orto Bar
31 Oct 17 Pratteln (CH) Z7
01 Nov 17 Nijmegen (NL) Doornroosje KZ
02 Nov 17 Eindhoven (NL) Dynamo
03 Nov 17 Bristol (UK) The Fleece
04 Nov 17 Leeds (UK) Damnation Festival
05 Nov 17 Glasgow (UK) Cathouse
06 Nov 17 London (UK) The Dome
08 Nov 17 Aarschot (BE) De Klinker
09 Nov 17 Paris (FR) Petit Bain
10 Nov 17 Bordeaux (FR) Rock School Barbey
11 Nov 17 Bilbao (ES) Santana 27
12 Nov 17 Lisboa (PT) Lisboa ao Vivo
13 Nov 17 Madrid (ES) Penelope
14 Nov 17 Barcelona (ES) Razzmatazz 2
15 Nov 17 Marseille (FR) Jas Rod
16 Nov 17 Mulhouse (FR) Noumatrouff
17 Nov 17 Saarbrücken (DE) Garage
18 Nov 17 Leipzig (DE) Hellraiser
.
Beyond Creation Tour & "Earthborn Evolution" album
BEYOND CREATION will be touring in support of their sophomore full-length, 'Earthborn Evolution'. The follow-up to BEYOND CREATION's debut full-length 'The Aura' (2011, re-issued by Season of Mist in 2013) is streaming in full on YouTube at this link: https://tinyurl.com/mvhv7ns
Artwork and tracklist of 'Earthborn Evolution' can be viewed below:
Tracklisting:
1. Elusive Reverence
2. Sous la lueur de l'empereur
3. Earthborn Evolution
4. The Great Revelation
5. Neurotical Transmissions
6. Abstrait Dialog
7. The Axiom
8. L'exorde
9. Theatrical Delirium
10. Fundamental Process
.
To order your vinyl album: HERE
To order your CD: HERE
On line Shop: HERE
.
Beyond Creation Tour & "Earthborn Evolution" album
Feel the onrush of sweeping arpeggios, crushing waves of fretless bass, complex rhythmical patterns and erupting scales peppered with jazzy feeling and masterful execution under the mark of 'Earthborn Evolution', which names the sophomore full-length of BEYOND CREATION. The French part of Canada is home to a vibrant culture of technical Death Metal fostered by outstanding acts such as GORGUTS, CRYPTOPSY, MARTYR, and NEURAXIS. This illustrious family tree has produced many sprouts in the past, yet none of them are as brilliant as Quebec's new amazing scion: BEYOND CREATION! Founded in the Olympic city of Montreal in the year 2005, the band worked hard to gain technical expertise before putting out their only demo in 2010. The immediate buzz resonated within and beyond technical Death Metal circles and was followed up by a self-release of "The Aura" (2011), which was re-issued by Season of Mist in 2013. With their debut album, BEYOND CREATION delivered a ferocious blend of technicality, melody, and brutality aided by fang-filled growls, which was interwoven with beautiful progressive interludes. Yet this was just the beginning as 'Earthborn Evolution' proves beyond doubt. Their next step now catapults the Canadians into the top league of their genre, right among such giants as ATHEIST, DEATH or early CYNIC. Prepare for the lightning evolution of the progressive technical death metal revolution!
Line-up:
Simon Girard: vocals, 8-string guitars
Kevin Chartré: 8-string guitars
Dominic 'Forest' Lapointe: 6-string fretless bass
Philippe Boucher: drums