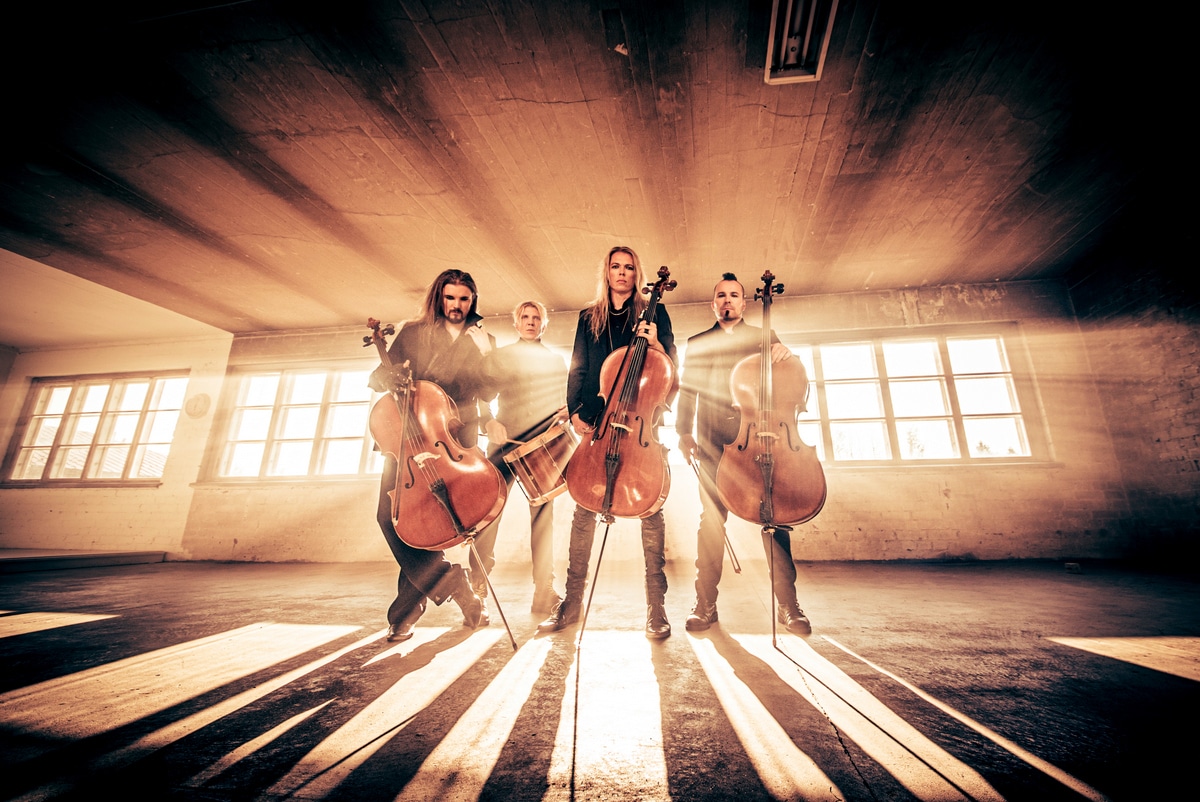 PARIS-MOVE, November 4th 2019 – APOCALYPTICA: new album out on January 10th 2019, and here's their new video for the title "Rise".
Pre-order the album HERE
Great news for our Parisian friends: APOCALYPTICA will be in concert at the Parisian Zenith on February 7th 2020 with SABATON.
Book your seats NOW…!
Finland's multi-Platinum cello-rock band Apocalyptica announces a spectacular new music video for "Rise".
Apocalyptica – Rise (Official Video): click HERE
Integrated with the achingly beautiful new song from the band's upcoming studio album Cell-0, due out January 10, 2020 (Silver Lining Music), "Rise" is an impressionistic painting come to life, which enacts the humanity that we all share and the power and gravity of one-on-one interactions.
Said director/writer, Lisa Mann, who has created several other music videos for Apocalyptica, "The idea was to make a video that was whimsical and captivating, that would transport the viewer into an alternate dimension that mirrors our society and today's importance of compassion and empathy. Characters in this world fall and rise again, and ultimately come together to help each other rise."
To create the ethereal "other-worldly" look of the "Rise" video, Mann collaborated with cinematographer Jason George who incorporated infrared technology, borrowed from the analogue world and now re-emerging in today's digital sphere. "Apocalyptica's music is timeless, very emotional and cinematic, and we wanted the "Rise" video to reflect that."
Eicca Toppinen: "Rise is a statement of hope, there is always a brighter side, no matter how dark or hopeless things seem to be. To believe in good and beauty, staying true to yourself and not giving up on that."
In support of the release of Cell-0, Apocalyptica – cellists Eicca Toppinen, Perttu Kivilaakso and Paavo Lötjönen, and drummer Mikko Sirén – will Special Guest with Sabaton on a 15-country, 23-date European arenas tour that begins on January 17, 2020 in Zurich, Switzerland. "We will be planning the full Cell-0 tour to be at the next level in terms of how we frame our performance," added Toppinen, "because we don't know any other way."
Cello-0 will be available in a variety of formats:
CD Mediabook
Heavy-weight double vinyl with etching artwork housed in a triple gatefold with 12" 20-page booklet
Deluxe D2C bundles
Digital Download and Streaming
Apocalyptica are:
Eicca Toppinen – Cello
Perttu Kivilaakso – Cello
Paavo Lötjönen – Cello
Mikko Sirén – Drums
Facebook page HERE