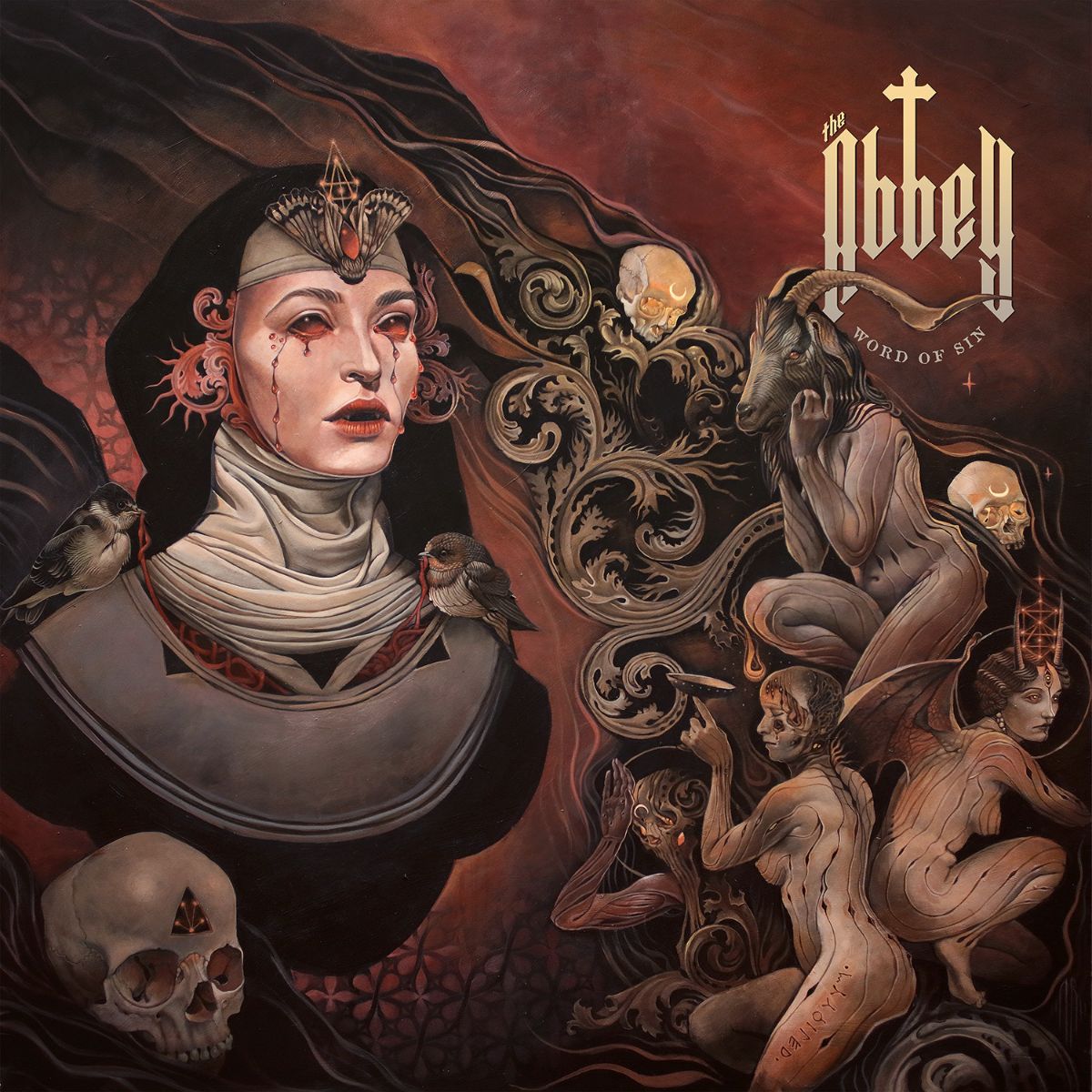 PARIS-MOVE, January 18th 2023 – THE ABBEY, the emerging progressive doom metal band ft. Natalie Koskinen (SHAPE OF DESPAIR), Jesse Heikkinen (HENGET, ITERUM NATA, etc), Vesa Ranta (SENTENCED, THE MAN-EATING TREE), and Janne Markus (THE MAN-EATING TREE), are now releasing their third new single 'Starless'.
The new offering is taken from the band's upcoming album "Word of Sin", which will be released via Season of Mist on February 17th (CD & Digital) and on July 07th (Vinyl).
THE ABBEY comments on the track & video: "It's the darkest song in the album, both musically and lyric-wise. Composed by guitarist Janne Markus, 'Starless' shows the heavier side of the band. The lyrics by singer Natalie Koskinen contemplate the inner emptiness and the loss of will to live."
The artwork for 'Word of Sin' was created by Alexander Reisfar and can be found together with the track-list below.
Track-list:
1. Rat King (4:42)
2. A Thousand Dead Witches (4:35) [WATCH]
3. Crystallion (6:17)
4. Starless (7:53) [WATCH]
5. Desert Temple (4:32)
6. Widow's Will (4:23) [WATCH]
7. Queen of Pain (5:22)
8. Old Ones: Prequel (2:34)
9. Old Ones (12:47)
Total: 53:05
Lineup:
Henri Arvola – Bass
Jesse Heikkinen – Guitar, keyboard, percussions, vocals
Natalie Koskinen – Vocals
Janne Markus – Guitar
Vesa Ranta – Drums
Guest Musicians:
Jarmo Heikkinen – Lute (track 8)
Joonas Karjalainen – Additional keys (tracks 1, 4, 5, 7, 9)
Mikko Kiiveri – Additional percussions (track 4)
Ossi Oikari – SFX (track 9)
Kyösti Rautio – Additional guitars (tracks 1, 3, 9) and additional keys (tracks 1, 4, 6, 9)
Recording Studio: Kratio Studios / Studio Beyond North Star
Recorded by: Jesse Heikkinen & Kyösti Rautio
Producer: The Abbey & Kyösti Rautio
Mixing Studio + Engineer: Kratio Studios by Kyösti Rautio (except track 8 – mixed by Jesse Heikkinen)
Mastering: Orgone Studios by Jaime Gomez Arellano