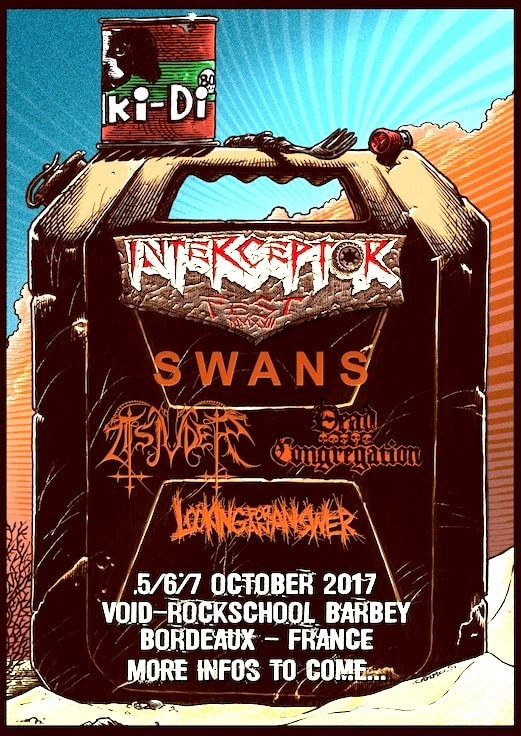 La nouvelle est tombée, voici l'affiche et les premiers groupes programmés pour le ​INTERCEPTOR Fest des 5, 6 et 7 Octobre 2017 !!
Sont déjà programmés: The Swans, Tsjuder, Dead Congregation, Looking For An Answer, et d'autres noms à venir !
Deux formules de Pass sont proposées:
Pass "early bird" 3 jours : 50€
Pass 3 jours normal : 60€
Billetterie on line ICI
pour commander et récupérer vos billets et vos Pass !!!
Après tous les excellents fests de l'été, ce serait trop con de se faire une méchante descente à la rentrée prochaine. L' INTERCEPTOR FEST est là pour ça. Les 5, 6 et 7 octobre prochains, à Bordeaux, nous glorifierons lesmusiques extrêmes, avec une prog exigeante, pour fêter la fin du monde entre ami-e-s.
Ce sera l'occasion d'errer dans Bordeaux, entre le Void , la place Dormoy et la Rockschool Barbey, boire un coup, et prendre une grosse claque.
After all the damn good summer fests, it would be really stupid to get down next fall. Interceptor fest is here for that. The 5th, 6th, 7th October 2017 , in Bordeaux, we'll glorify extrem music, with a sharp program, to celebrate world's end with your friends.
A good time to wander around Bordeaux, between the VOID, place Dormoy, and the Rockschool Barbey, share a drink, and be thrilled.
Official Facebook page : Interceptor Fest
Visuel par Ammo !