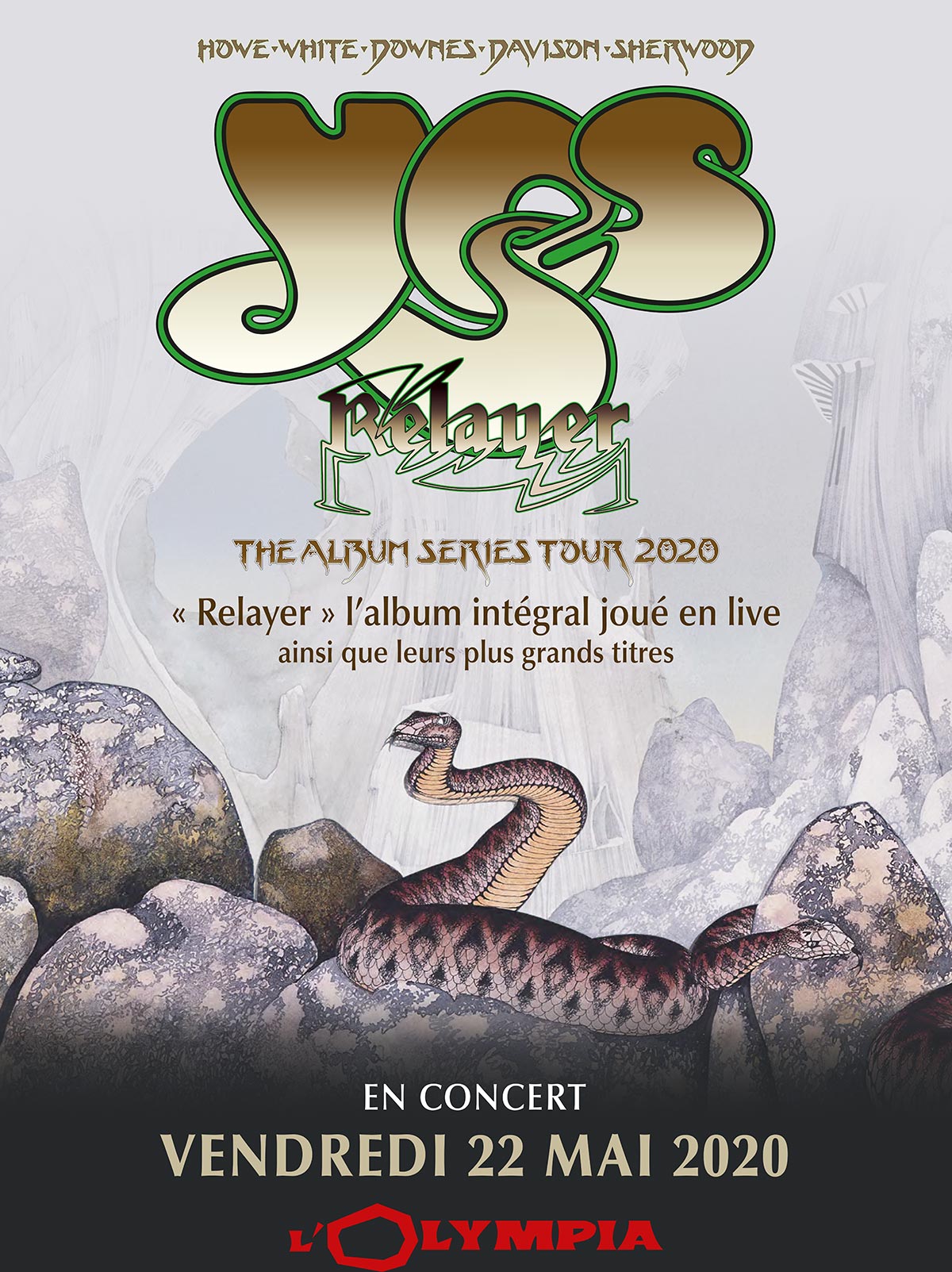 PARIS-MOVE, October 28th 2019 – Retrouvez le groupe culte YES en concert à L'Olympia, à Paris, le 22 mai 2020!
Yes est l'une des formations anglaises de rock les plus mythiques de toute l'histoire de la musique. Spécialiste du rock progressif, le groupe a marqué plus d'une génération et continue aujourd'hui d'être considéré comme une référence.
Réputé pour ses arrangements sophistiqués, ses mélodies enchanteresses, sans compter les décors de scène pittoresques, ces pionniers du genre cumulent 21 albums, dont Yes (1969), Fragile (1971), Close to the Edge (1972) et plus récemment Heaven & Earth (2014).
Album Series 2020 suit #YES50, la tournée anniversaire de 2018, et conserve la même formation: Steve Howe (guitare), Alan White (batterie), Geoff Downes (claviers), Billy Sherwood (basse et chœurs), Jon Davison (chant) et Jay Schellen (batterie additionnelle et percussions).
La tournée Album Series 2020 reprendra l'intégralité de l'album Relayer (1974) ainsi que d'autres classiques de YES.
Retrouvez le groupe culte YES en concert à L'Olympia le 22 mai 2020.
Préventes exclusive pour ce concert demain mardi 29 octobre à 10h00, et n'oubliez pas de renvoyer tout de suite le formulaire proposé ICI
Page Facebook de YES: ICI
:::::::::::::::::::::::::
The Album Series 2020 Tour will feature YES' 1974 Relayer album in its entirety together with a selection of other classic YES favourites.
The show will comprise two sets by the band with full production and a high definition video wall. The first will feature favourite classic tracks from YES' extensive catalogue. The second will feature Relayer, the seventh studio album, and one of the band's most distinctive.
Roger Dean will attend every show on the UK and European dates, and will have an exhibition of his iconic art, will be available to chat with fans front of house and sign merch, plus will be in the VIP meet and greets.
UK Tour dates are hereunder, and contact us at PARIS-MOVE to be with us at one of these Tour dates…!
Find your Tickets now HERE
On Line Store is proposed HERE