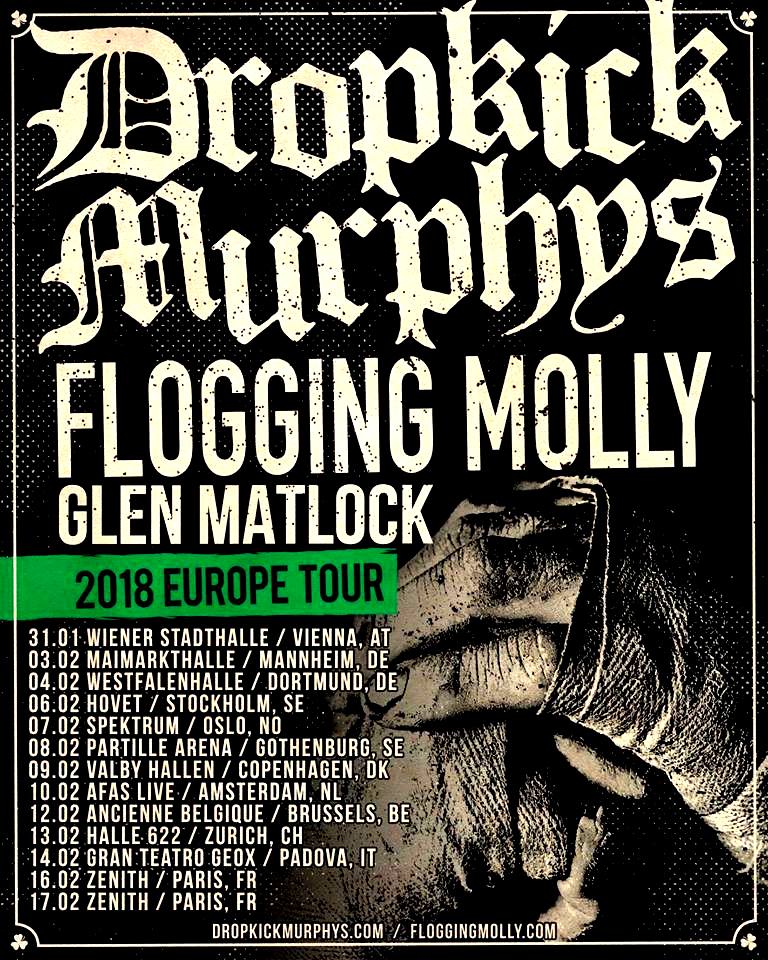 FLOGGING MOLLY on Tour with DROPKICK MURPHYS
Flogging Molly have just announced a European tour with Dropkick Murphy's to kick off 2018. The 13-date run sees the band supporting their new album "LIFE IS GOOD", which was released June 2nd, 2017.
Buy your album on line: HERE
On line shop: HERE
"LIFE IS GOOD" is Flogging Molly's first studio album in six years, which follows their highly acclaimed album, Speed of Darkness, that reached #9 on Billboard's Top 200. In a review of the new record, the Illinois Entertainer proclaims,"Flogging Molly spends the entire album doing exactly what it's best at – turning sadness into celebration, death into life affirmation, darkness and despair into light and hope, and political turmoil into some sort of edifying, optimistic narrative."
Amplify Australia comments, "the best of Celtic Music" and Slug Magazine adds, "There's a strong sense of musicianship and passion that goes into their music."
"LIFE IS GOOD" was produced by GRAMMY Award winning Joe Chiccarelli (U2, White Stripes, Beck) and recorded in Ireland. Flogging Molly has received more than 80 million streams on Spotify with more than 600,000 monthly listeners.
Flogging Molly is: Dave King (Lead Vocals, Acoustic Guitar, Electric Guitar, Bodhran), Bridget Regan (Violin, Tin Whistle), Dennis Casey (Acoustic Guitar, Electric Guitar), Bob Schmidt (Banjo, Mandolin), Matt Hensley (Accordion, Piano, Concertina), Nathen Maxwell (Bass Guitar), Mike Alonso (Drums, Percussion).
FLOGGING MOLLY TOUR DATES  W/ DROPKICK MURPHYS:
31.01. – Vienna (AT) @ Wiener Stadthalle
03.02. – Mannheim (DE) @ Maimarkthalle
04.02. – Dortmund (DE) @ Westfalenhalle
06.02. – Stockholm (SE) @ Hovet
07.02. – Oslo (NO) @ Oslo Spektrum
08.02. – Gothenburg (SE) @ Partille Arena
09.02. – Copenhagen (DK) @ Valby Hallen
10.02. – Amsterdam-Suidoost (NL) @ Afas Live
12.02. – Brussels (BE) @ Ancienne Belgique
13.02. – Zurich (CH) @ Halle 622
14.02. – Padova (IT) @ Gran Teatro Geox
16.02. – Paris (FR) @ Zenith
17.02. – Paris (FR) @ Zenith
.
DROPKICK MURPHYS Live: