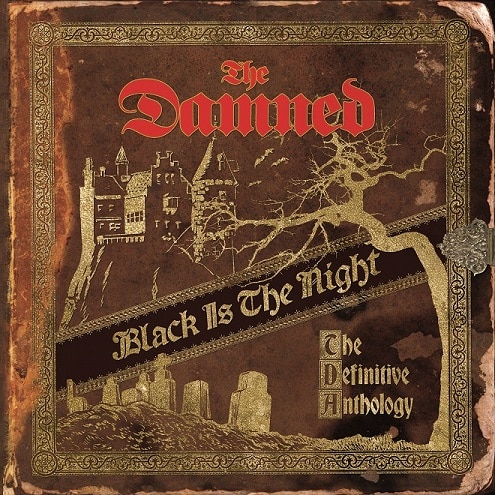 PARIS-MOVE, October 25th 2019 – The DAMNED nous proposera dans quelques jours "'Black Is The Night", The Definitive Anthology, qui sera disponible en double CD et quadruple vinyle…! Sortie le 1er Novembre sur BMG.
Pré-commandes ICI
L'an passé, The Damned ont fait un retour remarqué sur la scène internationale avec "Evil Spirits", un nouvel album studio suivit une série de concerts à travers le monde, dont la plupart affichaient complet. Ce disque a sans aucun doute ravivé l'intérêt autour de l'un des plus célèbres des groupes punk britanniques, que certains considèrent même comme le premier.
Histoire de raviver la mémoire des anciens et de permettre aux plus jeunes d'en savoir plus, cette légende du rock s'apprête a sortir, le 1er novembre prochain, une compilation de ses plus grands titres.
Sélectionnés par les musiciens eux-mêmes, ces 39 chansons sont tirées des meilleurs albums du groupe. A cela il faut rajouter un nouveau single intitulé "Black Is The Night"!
Le design "gothique" que l'on découvre aujourd'hui est signé Phil Smee qui avait déjà travaillé à plusieurs reprises avec The Damned, ainsi qu'avec des artistes tels que Motörhead, Elton John ou Madness.
The Damned:
David Vanian – Vocals
Captain Sensible – Guitar
Monty Oxy Moron – Keyboard
Pinch – Drums
Paul Gray – Bass
Listes des titres: Love Song/ Wait For The Black Out/ Generals/ I Just Can't Be Happy Today/ Bad Time For Bonzo/ Democracy?/ White Rabbit/ Antipope/ Ignite/ Melody Lee/ Smash It Up – Pt 1 & 2/ New Rose/ Neat, Neat, Neat/ Stretcher Case Baby/ Sick Of Being Sick/ Born To Kill/ Rabid (Over You)/ Problem Child/ 1 Of The 2/ So Messed Up/ Machine Gun Etiquette/ Disco Man/ Fan Club/ Suicide/ Eloise/ Plan 9 Channel 7/ Grimly Fiendish/ The Shadow of Love/ Dr Jekyll And Mr Hyde/ Street Of Dreams/ The History Of The World (Part 1)/ Curtain Call/ Alone Again Or/ Lively Arts/ Standing On The Edge Of Tomorrow/ Stranger On The Town/ Fun Factory/ Under The Floor Again/ Black Is The Night (nouvelle chanson!)
Page Facebook ICI
Official website HERE
On Line Merch HERE