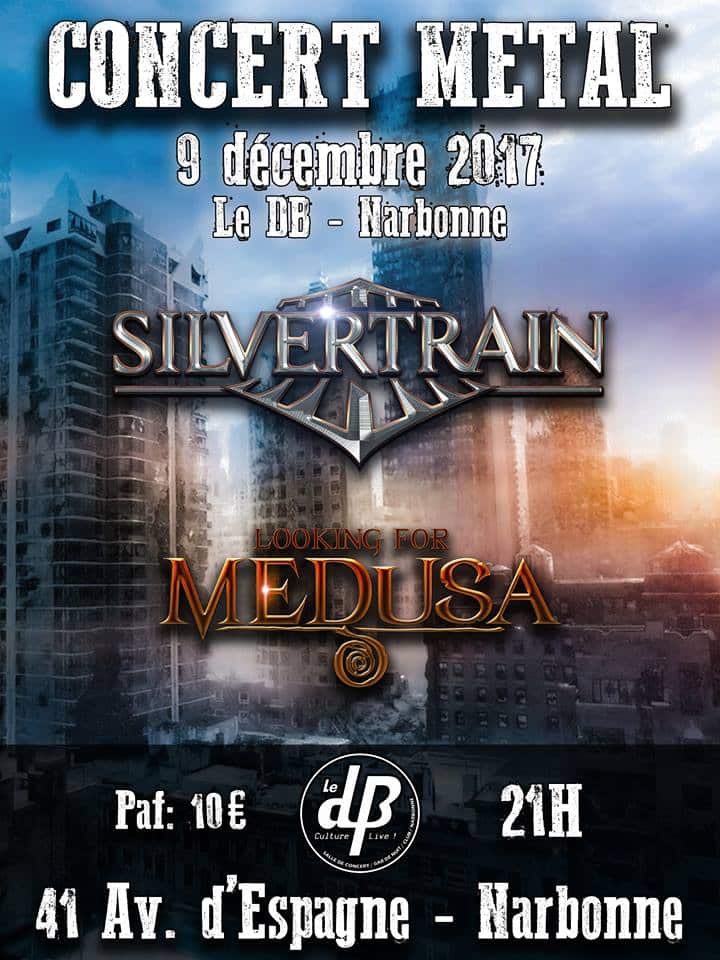 Concert Metal Silvertrain – Looking For Medusa
PAF: 10 euros / 8.50 euros
Billetterie: ICI
Horaire: 21 heures
Adresse: Le dB – 41 avenue d'Espagne, Narbonne
Page Facebook de l'event: ICI
SILVERTRAIN est fondé en 1976 par Phil York (Vocal) et Chris Lane (Guitar). Avec Martin Fox (Bass) et Chris Badger (Drums), ils multiplient les concerts: les premières parties de toutes les dates françaises et allemandes de la tournée "Bomber Tour" de Motörhead, de la tournée Rose Tatoo, et des scènes partagées avec Nazareth, Foreigner, Krokus, permettent à la formation d'acquérir une notoriété nationale et internationale.
Les albums WHICH PLATFORM PLEASE? et KEEP THE FLAME, sont un réel succès.
Après une longue maladie, Chris Lane décède. Phil Yborra (York) reforme SILVERTRAIN en sortant l'album MEMORIES et signe chez Brennus Music. Les Albums SILVERTRAIN et WALLS OF INSANITY sont écris dans la foulée et les concerts reprennent.
Le nouvel album NO ILLUSION est en préparation autour de Florian Mérindol (guitar), Alex Dumas (drums), Sébastien Hinderschiett (Bass), Phil Yborra (vocals) pour une sortie en janvier 2018. NO ILLUSION, c'est montrer du doigt, l'apparence , la superficialité, la trahison, la haine, le sang, et parfois l'amour.
Page Facebook officielle: ICI
Silvertrain Fall Tour 2017 Teaser on YouTube: ICI
Looking for Medusa: ICI
Page Facebook officielle Looking for Medusa: ICI
Concert Metal Silvertrain – Looking For Medusa
PAF: 10 euros / 8.50 euros
Billetterie: ICI
Horaire: 21 heures
Adresse: Le dB – 41 avenue d'Espagne, Narbonne
Page Facebook de l'event: ICI