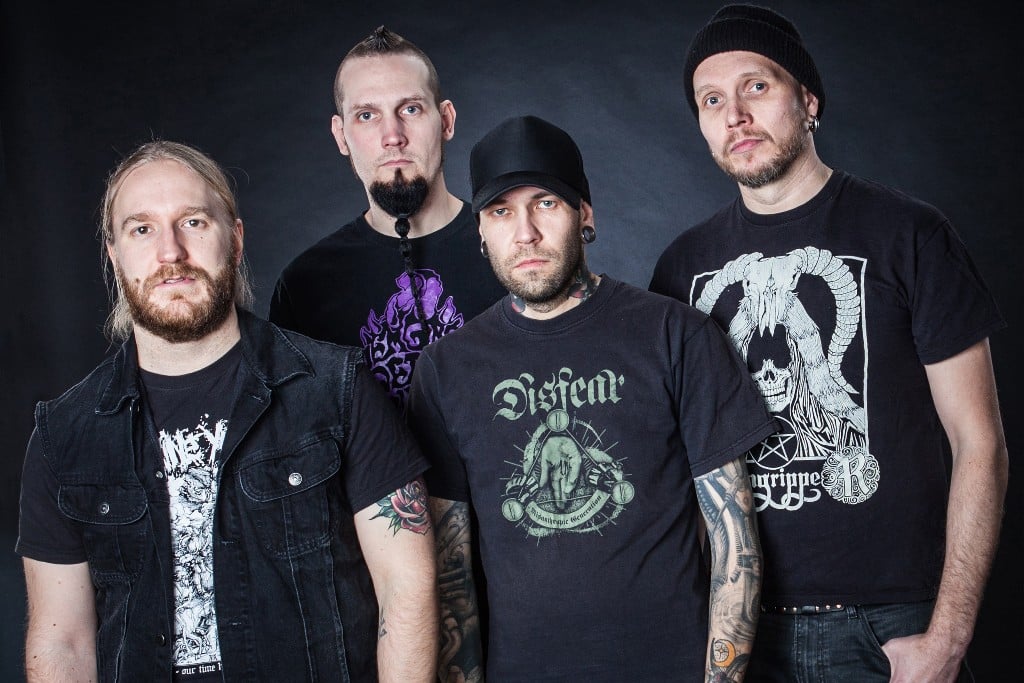 Rotten Sound on EU tour with Exhumed!
French fans, PARIS-MOVE and the band wait for you June 24th 2018 at Clisson for the Hellfest…!!!
ROTTEN SOUND Europe + EXHUMED:
12 Apr 18 Paris (FR) Gibus Live
13 Apr 18 Essen (DE) Turock
14 Apr 18 Amersfoort (NL) Headbangers Bash
15 Apr 18 Jena (DE) Rosenkeller
16 Apr 18 Rostock (DE) Alte Zuckerfabrik
17 Apr 18 Poznan (PL) Klub U Bazyla
18 Apr 18 Berlin (DE) Cassiopeia
19 Apr 18 Tannheim (DE) Schwarzer Adler
20 Apr 18 Vevey (CH) Rocking Chair
21 Apr 18 Göttingen (DE) Haus der Kulturen
22 Apr 18 Wien (AT) The Escape
23 Apr 18 Bratislava (SK) Randal Club
24 Apr 18 Budapest (HU) Dürer Kert
25 Apr 18 Ostrava (CZ) Barrak
26 Apr 18 Hamburg (DE) Hafenklang
27 Apr 18 Erica (NL) Pitfest
28 Apr 18 Mannheim (DE) MS Connexion Complex
29 Apr 18 Antwerp (BE) Het Bos
ROTTEN SOUND Festivals:
24 Jun 18 Clisson (FR) Hellfest
12 Jul 18 Viveiro (ES) Resurrection Fest (exact date TBC)
24 Jul 18 Tolmin (SI) Metal Days (exact date tbc)
The band will play their last album, 'Suffer to Abuse'. The artwork of 'Suffer to Abuse', which has been created by Thomas Boutet at Mush Design and can be viewed together with the album details below.
All information about 'Suffer to Abuse' is HERE on PARIS-MOVE web site, "the" web site dedicated to all musics!!!!
Track-list
1. Privileged (1:25)
2. The Misfit (1:53)
3. Stressed Mess (2:05)
4. Harvester of Boredom (2:01)
5. One Hit Wonder (1:19)
6. Nutrition (2:23)
7. Slaves of Lust (0:51)
Total playing time: 9:52
ROTTEN SOUND have firmly established themselves as one of the leading acts of the grindcore scene. Expertly wielding the fierce brutality and massive aggression of their genre, the Finns add intelligent songwriting, effective arrangements, and musical proficiency as well as subtle death metal elements to their sound.
Their forthcoming new EP 'Suffer to Abuse', which is not to be confused with their latest full-length album, 'Abuse to Suffer' (2016), embodies those aforementioned virtues to the point. The EP delivers seven short sharp chops that hit home perfectly.
ROTTEN SOUND was conceived in the city of Vaasa, Finland by guitarist Mika Aalto in 1993, who was soon joined by vocalist and word-smith Keijo Niinimaa. The duo still remains in place, while the original members in all other positions have been replaced several times until today.
The Finns can field an impressive catalogue of seven highly acclaimed studio albums, now eight EPs, three split singles, a single, and a live DVD. Furthermore, ROTTEN SOUND have already conquered the stages of all major metal and hardcore oriented festivals and also toured in regular intervals alongside such renowned acts as MALEVOLENT CREATION, PHOBIA, DISFEAR CARCASS, MUNICIPAL WASTE, EXHUMED, NAPALM DEATH, and PIG DESTROYER – among many others.
With 'Suffer to Abuse', ROTTEN SOUND are gearing up their musical juggernaut just in time before crushing stages all over Asia and Europe this spring. Hold on tight and enjoy the bliss of this heavily whirling grind-tornado!
Line-up
Mika Aalto: guitars
Sami Latva: drums
Kristian Toivainen: bass
Keijo Niinimaa: vocals
Official Facebook page: HERE
Official web site: HERE