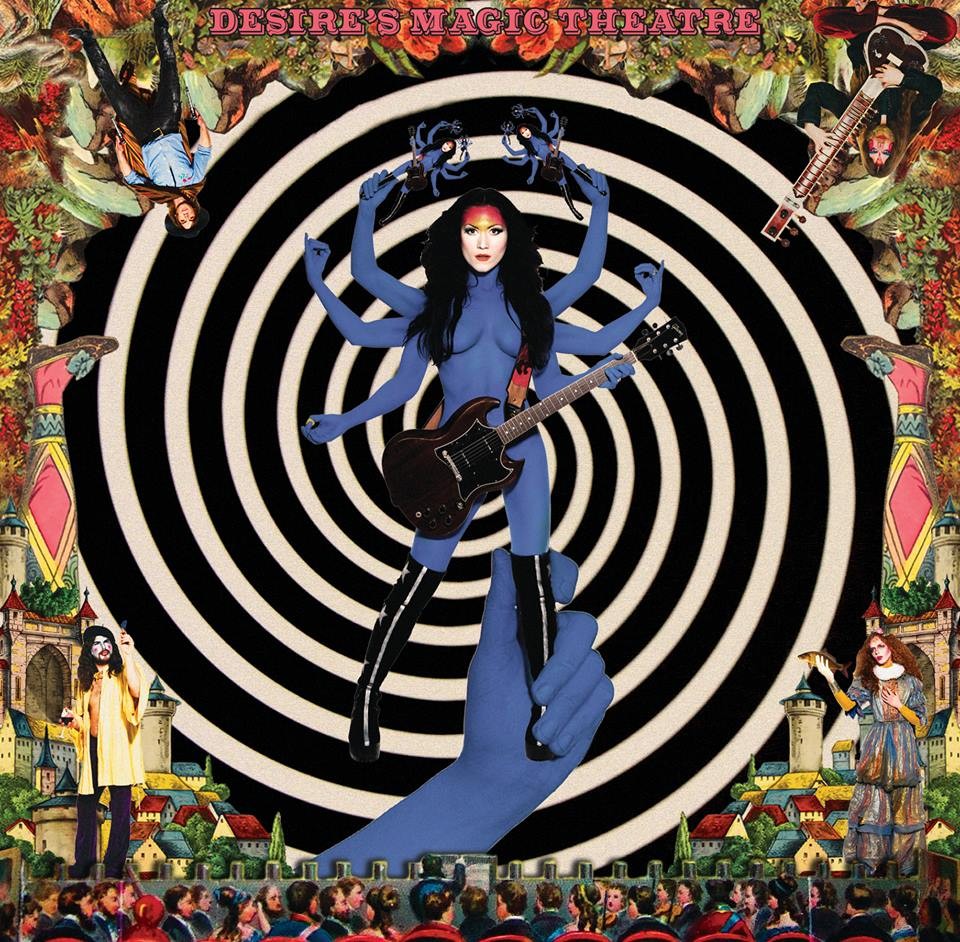 Après Ghost, co-tête d'affiche du Download et du Hellfest 2016, c'est au tour de Purson de s'émanciper du label Rise Above pour aller boxer chez les poids lourds. Et, espérons-le, enfin jouer en France. Le quintet est tenu à bout de bras par Rosalie Cunningham – fille du critique rock Mark Cunningham – qui enregistre tous les instruments hors batterie et pose même nue, sans doublure, pour l'artwork de la pochette dont on vous laisse admirer la mise en abîme. Maîtresse femme ou control freak…? Rosalie, en praticienne émérite du recyclage Beatles/ Small Faces/ Kinks (cf. la reverb inversée), livre le granuleux "Desire's Magic Theatre", l'aérien "Electric Landlady", et 8 autres portes dérobées sur l'imaginaire. On prêtera une fonction œcuménique au sax "à la King Crimson" de Jon Seagroatt (Comus) qui rattrape par le col les fans du seventies "The Circle And The Blue Door", coécrit par l'ex de la belle Ed Turne. En décernant à Purson son "Vanguard Award 2015", notre confrère anglais Prog a extrait le groupe d'épiphénomènes de mode sans substance. Paris-Move lui emboîte le pas en vous recommandant chaudement cette folie douce, faite de passions incontrôlées et d'outrances stylistiques.
Jean-Christophe Baugé
Blues Magazine/ JAZZ NEWS/ LEGACY (DE)/ METAL OBS'/ PARIS-MOVE/ ROCK & FOLK
Clip de Purson – Electric Landlady, sur YouTube, ICI
Pour acheter l'album, c'est en ligne, depuis le on line shop, ICI
Faites très vite pour profiter de la "Special offer": Purson – Desire's Magic Theatre Limited Edition Blue Vinyl + Exclusive Photograph: HERE
Page Facebook officielle: ICI
Notre recommendation: procurez-vous le vinyle bleu, bien sûr, mais aussi le CD édition spéciale, avec bonus (Deluxe Edition, Limited Edition – Label: Spinefarm Records – ASIN: B01BN23RMQ): ICI
et dont le Track listing comporte 3 Bonus Tracks!
Track list:
1. Desire's Magic Theatre
2. Electric Landlady
3. Dead Dodo Down
4. Pedigree Chums
5. The Sky Parade
6. The Window Cleaner
7. The Way It Is
8. Mr Howard
9. I Know
10. The Bitter Suite
11. Unsure Overture (Bonus Track)
12. I Know (Acoustic Version) (Bonus Track)
13. The Sky Parade (Acoustic Version) (Bonus Track)