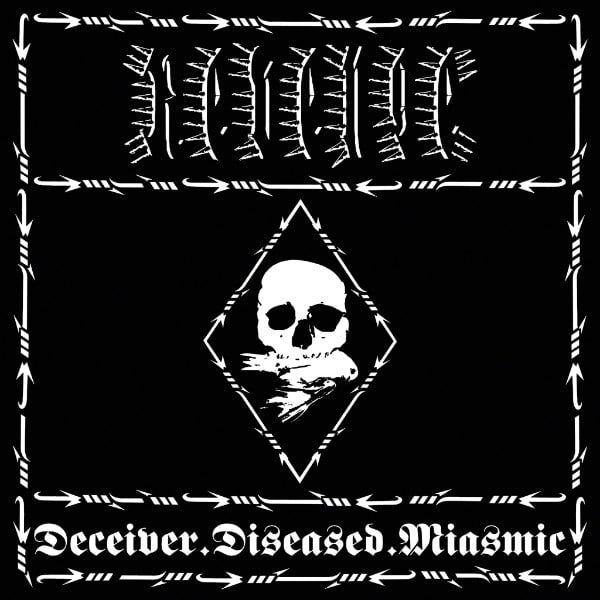 PARIS-MOVE, April 26th 2019 – REVENGE embark on European tour with Mgła.
Chaos Black Metallers REVENGE are kicking off their European tour with Polish metal cult Mgła this Sunday, April 28th in Berlin. The 'Vision – Discipline – Contempt Conquest' tour will hit Germany, Switzerland, Austria, the Netherlands, Poland, France and Belgium before the final curtain in Oberhausen (DE) on May 17th.
Supporting acts are Deus Mortem (April 28 – May 6) and Doombringer (May 8 – May 17). All tour dates can be found below.
REVENGE
With Mgła and Deus Mortem * or Doombringer + :
28 Apr 19 Berlin (DE) Columbia Theater *
29 Apr 19 Erfurt (DE) From Hell *
30 Apr 19 Zwickau (DE) Seilerstrasse *
01 May 19 Munich (DE) Backstage *
02 May 19 Aarburg (CH) Musigburg *
03 May 19 Vienna (AT) Grelle Forelle *
04 May 19 Nürnberg (DE) Matrixx *
05 May 19 Tilburg (NL) Netherlands Deathfest *
06 May 19 Kassel (DE) Goldgrube *
08 May 19 Poznan (PL) U Bazyla +
09 May 19 Gdansk (PL) B90 +
10 May 19 Warsaw (PL) Porgresja +
11 May 19 Wroclaw (PL) Zaklete Rewiry +
12 May 19 Mörlenbach-Weiher (DE) Live Music Hall +
13 May 19 Colmar (DE) Le Grillen +
14 May 19 Lyon (FR) CCO +
15 May 19 Paris (FR) Petit Bain +
16 May 19 De Kreun (BE) Kortrijk +
17 May 19 Resonanzwerk (DE) Oberhausen +
REVENGE have recently released their EP 'Deceiver.Diseased.Miasmic'. The song "Deceiver Futile" can be streamed via the Season of Mist Youtube Channel, HERE
Tracklist:
1. Diseased Intrusion
2. Deceiver Futile
It's been a few years since REVENGE stormed the black metal scene with latest full length 'Behold.Total.Rejection' (2015). Now, the Canadian extreme metallers have returned with two new songs. The upcoming EP 'Deceiver.Diseased.Miasmic' represents a new chapter in the band's nihilistic and hateful mission against the world.
REVENGE was founded by vocalist and drummer J. Read continuing in the vein of his previous outfit and war metal instigators CONQUEROR in the year 2000. The Canadians have since delivered some of the most severe and brutal music the metal underground has ever produced. Simply put: they are one of the most extreme bands in existence.
With each release, J. Read has pushed the limits further. The two early EPs 'Attack.Blood.Revenge' (2001) and 'Superion.Command.Destroy' (2002) were followed by first full-length 'Triumph.Genocide.Antichrist' (2003). Each release was either greeted by stunned enthusiasm or sheer hatred by critics and fans alike. There was never any room for middle ground with punishing albums such as 'Victory.Intolerance.Mastery' (2004), 'Infiltration.Downfall.Death' (2008), 'Scum.Collapse.Eradication' (2011), and 'Behold.Total.Rejection' (2015).
Immersed in a thick layer of sonic muck, the beastly grunts and spiteful screams, the crusty guitar sound and the assaulting drums drown out any pretense of accessibility and affability. 'Deceiver.Diseased.Miasmic' emanates a grubby atmosphere, pushing the limits even further than on previous efforts.
For those dreading the coming holiday season, REVENGE has made the ultimate soundtrack for the most wonderful time of the year.
Recording Line-up:
J.Read: Nuke Chants / Doom Hammers
V: Session Chaos/ Low end Annihilation
Live Line-up:
J.Read: Drums
V: Guitars / Vocals
H: Bass / Vocals