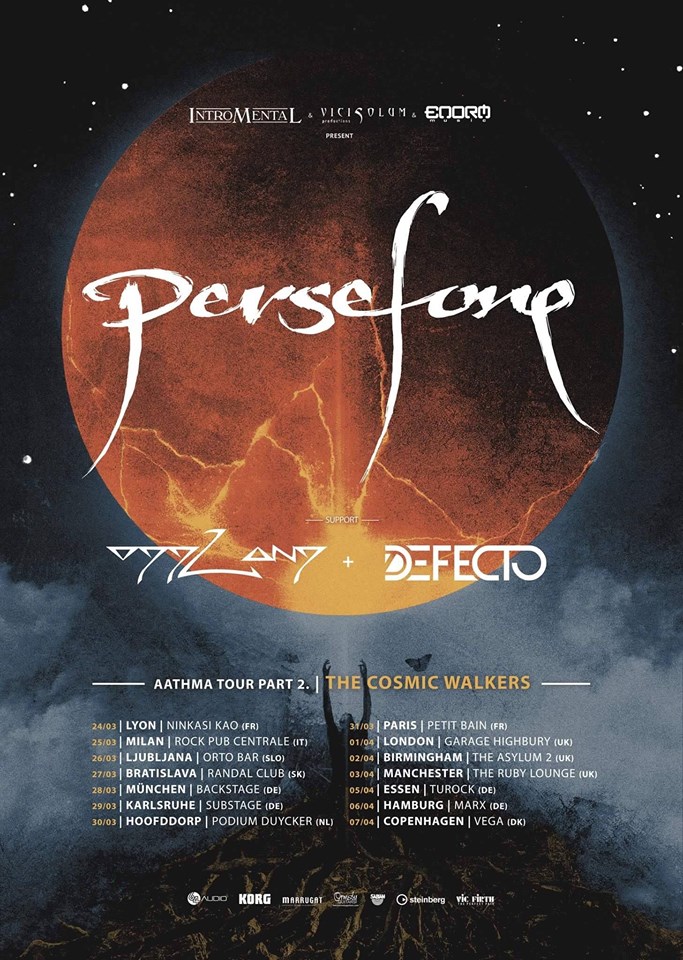 PERSEFONE + ODDLAND + DEFECTO seront en France pour 2 concerts prochainement:
— à Lyon au Ninkasi Kao le 24 mars 2018
— à Paris au Petit Bain le 31 mars 2018
PERSEFONE + ODDLAND + DEFECTO à Lyon le 24 mars:
Site web du Ninkasi Kao: ICI
Page Facebook du Ninkasi Kao: ICI
Billetterie: ICI
Le Ninkasi est une entreprise culturelle créée en 1997: sur un même lieu, vous trouverez deux scènes de concerts, le Kafé et le Kao, des espaces bar et restauration. Le Kafé est une scène gratuite, avec des rendez-vous réguliers tous les jours de la semaine, et des soirées spéciales (concerts & Djs) les vendredi soir, avec presque 360 événements par an.
La salle du Kao est "LA" salle de concerts intermédiaire lyonnaise: sa jauge de 600 places la situe en effet entre les cafés-concerts du centre-ville et les salles de grande capacité, avec une programmation riche et diversifiée avec 150 dates par an.
PERSEFONE + ODDLAND + DEFECTO à Paris le 31 mars:
Page Facebook du concert du 31 mars au Petit Bain: ICI
Adresse du concert: Petit Bain, 7 port de la Gare, 75013 Paris
Samedi 31 mars à 19h00
Personnes à mobilité réduite: 01 49 25 81 75
"Persefone heads out on "Aathma tour, pt. 2 – The Cosmic Walkers" in Europe. This is the Paris show!"
Page Facebook du Petit Bain: ICI
Billetterie: ICI
Base Concerts (2-1082169, 3-1082170) vous présente ce concert:
Après une boule noire en 2017, PERSEFONE (quand le prog metal de Dream Theater rencontre le melo death de Gojira) seront de retour en France au Petit Bain le 31 mars 2018. Encore une bonne soirée de progressif en perpective!
Page Facebook officielle de PERSEFONE: ICI
Bio:
Persefone, the band that put the Andorran country on the map of the metal scene, started as a band back in 2001.
They spent one year working on what would become, the very first Persefone album "Truth Inside the Shades", released by Adipocere Records in Europe, Soundholic Records in Japan, and CD-Maximum (Russia and baltic countries), in combination with Intromental Management.
The album achieved great media feedback and soon they started preparing the 70 minutes, 3 songs opus, "Core". Released in 2007 by Burning Star in Europe and Soundholic in Japan, this epic album is still considered one of the best albums in its genre, ever.
The band was finding its own sound and after a few festivals in Europe and a bunch of local shows they began writing their third album. With a new drummer, they achieved a new level of complexity in percussions and "Shin-ken" arrived in 2009, a 70 minutes album about japanese samurai and zen philosophy.
The first European tour took place with American death metallers Obituary in 2010. It was an amazing experience for the band that would put them on the roster of bands available for touring, and becoming a real serious act. Some other festivals in Europe happened during this time and in the meantime the band started writing their critically acclaimed fourth album: "Spiritual Migration".
On 2012, the second European tour took place supporting Leprous, right before the world-wide release of the album by "Vicisolum Records" on February 2013. Followed with a ten minute video clip from the song "Spiritual Migration", the album ended up being a world fabulous achievement for the band, reaching more than a million views in Youtube and more than a million songs streamed on Spotify, iTunes,…
The promotion for this album included two Asian tours in 2013 and 2014, including Japan, China and Taiwan, with the very first "Sold out" of the band, happening in Tokyo.
In 2015 and with a renewed line-up, the band did the first co-headlining tour with Swedish metalheads Loch Vostok around Europe, becoming the first success of the band in this matter.
During 2016, the band started writing their next album "Aathma" which was released on February 2017, all around the world after a very successful crowdfunding campaign.
On 2017 Persefone toured Europe for the fifth time, but now as main act. The tour was a huge success and after some summer festivals they also toured Japan for the third time.
During 2018 the band will tour Europe again as headliners, visiting new cities and bigger venues. They also have confirmed a bunch of summer festivals and are also preparing their first US, Canada and Mexico tour.