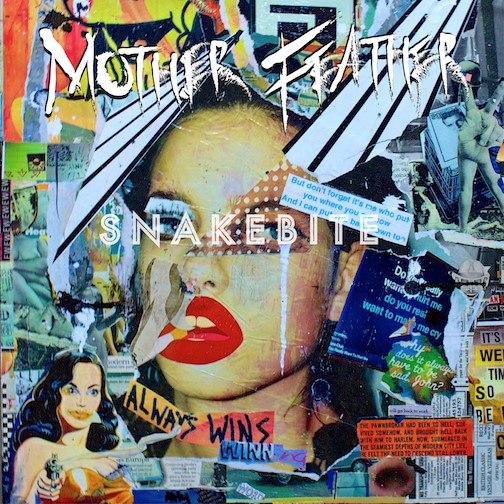 Mother Feather streams new single, "Snakebite", via Guitar World.
"…among the best material the band has released so far." – The Deli
"…glam rock mixed with fiery garage-pop, blending the visual approach of classic glam rock with proto punk influences." – The Punk Site
Adding more fuel to the fire, NYC's Mother Feather is releasing their second pulsing single today in anticipation of their sophomore album.
The out-for-blood "Snakebite" makes its debut exclusively HERE clocking in at under two minutes without a second to spare.
Explains lead singer Ann Courtney, "An homage to the evil impulse and the speed of its ambush, I wrote 'Snakebite' in a hot 20 minutes. With its production setting it in the cinematic imagination of an 80s punk cult-film, this is the riotous theme song for your psycho ex-girlfriend with an axe to grind."
New York City's Mother Feather have perfected the formula to pay homage to the roots of punk'n'roll and heavy rock injected with their own brand of the divine feminine, and since their debut album have been keeping the audience on their toes.
The evolution of their high-energy "pop cock rock" surges forward this November 2nd 2018 with their sophomore album Constellation Baby, out via Blacklight Media/ Metal Blade Records, and available for pre-order now HERE
You can also stream the previous single, "Red Hot Metal" HERE
Constellation Baby track-listing:
1. Red Hot Metal
2. Man, I Wish You Were Here
3. ICU
4. Snakebite
5. Desert Island
6. Constellation Baby
7. Totally Awesome
8. Shake Your Magic 8 Ball
9. Supernatural
10. I Blow A Kiss
Facebook page: HERE