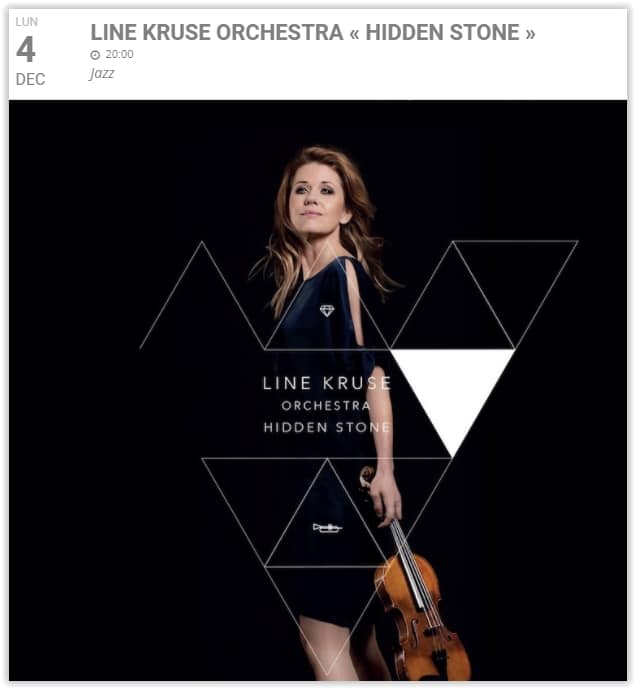 LINE KRUSE ORCHESTRA "HIDDEN STONE" sera en concert le 4 Décembre 2017 au Pan Piper, à Paris, en Big band dirigé par Pierre Bertrand.
.
Entre épure nordique et traditions musicales d'Amérique Latine, la compositrice Line Kruse présente un ambitieux nouveau projet, "Hidden Stone".
Toutes les musiques sont composées et arrangées par Line Kruse à l'exception de la 9 composée par Pierre Bertrand et arrangé par Line Kruse:
"Le mélange de cultures est très important pour moi, et j'ai voulu ici l'inscrire au cœur des compositions, par l'utilisation de rythmes comme le festejo afro-péruvien ou la zamba argentine, et d'instruments comme le bombo, rarement utilisés dans le jazz" dit la compositrice. "Ce patrimoine de polyrythmies ouvre des horizons très riches et peu visités".
Le violon de Line Kruse s'intègre ici en section avec les cuivres, dans la rythmique ou en soliste, une conception originale qui renouvelle l'équilibre des timbres de l'orchestre:
"J'ai toujours eu envie de confronter la sonorité à la fois forte et délicate du violon à la sensation sonore d'un big band".
La danoise Line Kruse a été adoptée par la communauté des musiciens sud-américains dès son arrivée à Paris, et son nom y est étroitement associé. Les quelques 300 concerts avec le Gotan Project lui ont aussi permis de remonter in situ aux sources de la milonga et de la chacarera, qu'elle adapte dans son Tango La Jalouse, à la fois hommage à son compatriote Jakob Gade et au maestro Pugliese. On retrouve ici quelques figures majeures de la scène, comme le charismatique percussionniste argentin Minino Garay et le batteur cubain Lukmil Perez.
De nombreux invités solistes et dans l'ensemble complètent un casting d'exception, où se mêlent les générations et nationalités: le trompettiste Gerard Presencer, Steen Nicolaj Hansen (trombone), Pierre Bertrand (sax), et les guitaristes Hervé Samb et Louis Winsberg.
Avec Hidden Stone, elle a élaboré un projet qui se développera sur scène autant qu'en studio, en variant les différents formules du big band au quartet, ce que facilite une écriture tout en développements et ruptures internes. "Mon écriture a toujours inclus beaucoup de changements de grilles et de structures, à la différence de l'enchaînement thème – solo – thème des standards. En fait, je crois que j'ai toujours pensé en orchestre, même lorsque j'écris pour une petite formation".
Rythmes intenses et simplicité lyrique forment la substance de cette musique contrastée, tour à tour intime et extravertie. L'idéal apollonien et la joie dionysiaque enfin réconciliés en sorte, avec comme point d'équilibre, la ligne claire et sûre du violon de Line Kruse.
Le Pan Piper : 2-4 Impasse Lamier, 75011 Paris
Tél: +33 1 40 09 41 30
Site web: ICI
Tarif: 20 euros et 15 euros (voir conditions sur la page de la Billetterie)
Billetterie en ligne: ICI
Ouverture des portes: 19h30
Début du concert: 20h00
.
Discographie (sur le site de Line KRUSE): ICI
Official website: HERE
From the official website, About:
.
Danish violinist and composer, Line Kruse lives in Paris, France, but she's got the whole world for her playground. Singled out for outstanding performances world-wide with the ground-breaking electronica Tango group Gotan Project, Line has also forged an exceptional path all her own.
After graduating from the Royal Danish Conservatory in Copenhagen, Line Kruse head out for the City of Lights. With a taste for the unusual and a childhood penchant for Jazz, she quickly integrated the Paris Latino community.
That's when Line hooked up with top avantguard Cuban and Argentinean musicians with whom she developed her distinct sound and continues working today. Those experiences opened doors to the vast, multi-cultural Parisian scene.
Line inevitably caught the eye of today's million-selling Gotan Project.. She's been sharing the international lime-light with this recording phenomenon for the past eight years. Gotan's mix of Tango and electronic beats first became a huge hit attracting the attention of the most in vogue DJs at the time and later, through the group's stupefying performances around the world. By the way, Line's stunning arrangement of Piensa en mi features the voice of Gotan's Veronika Silva, in duo with Cuban singer Joel Hierrezuelo.
But Line also has an urge to follow her instincts. Though her compositions bring together a variety of elements from jazz, Tango and Cuban music, her works maintain their unique compositional character. She is very clear about how her music will sound, and encourages her musicians to contribute to its evolution by adding their own touch, cultural and musical perspective. You hear that unstifled creativity in Line's music, and perhaps that is what makes it so original, inspiring and different.
"My compositions always mirror my musical experiences. My first album WARM WAVES for example is influenced by Argentinean, Afro Cuban and Brazilian music, because it's what I was involved with at the time. The rhythm is all Latino but given the harmonic structure and improvisation, the base is still jazz. My music also reflects whatever happens to get under my skin, and I'm constantly trying to see how I can do this or that differently."
Line Kruse explains that the dreamy quality to her new album is the result of intentional contrasting. The album is more urban and less Latin influenced, integrating varied musical styles, unexpected orchestration and electronic beats. DREAM sweats of trendy loops and improvisation. The playing is marvelously fluid, airy and wild, perfectly illustrating a hip, cross-over album that will surely find an enthusiastic audience amongst jazz fans and dance lovers.