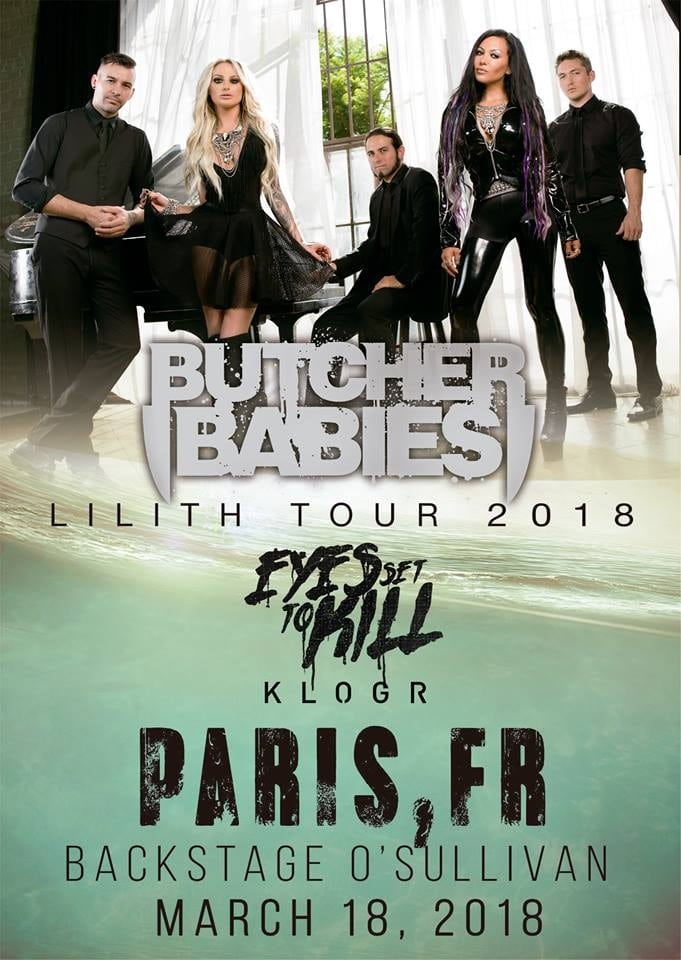 KLOGR de retour en concert en support de Butcher Babies le 18 Mars 2018 au O'Sullivans Backstage by the mill, à Paris!
Page Facebook du concert: ICI
Adresse du concert: O'Sullivans Backstage by the mill, 92 Boulevard de Clichy, 75018 Paris
Dimanche 18 mars à 19h30
Métro: ligne 2 – station "Blanche"
Billetterie en ligne: ICI
Depuis près d'une décennie, ils enflamment les scènes du monde entier avec leur énergie explosive. Venus tout droit de Los Angeles, les Butcher Babies sont taillés pour la scène où ils allient l'agressivité du métal bodybuildé avec l'outrage du shock rock! Fin 2017, ils sortent leur troisième album, "Lilith", et signent un retour fracassant…!
Concert le Dimanche 18 mars à 19h30 au O'Sullivans Backstage by the mill, 92 Boulevard de Clichy, 75018 Paris.
Page Facebook officielle des Butcher Babies: ICI
Page Facebook de Base Productions: ICI
Page Facebook du O'Sullivans Backstage by the mill: ICI
Site web officiel du O'Sullivans Backstage by the mill: ICI
Page Facebook de KLOGR: ICI
Why KLOGR ? Here's the answer: The law of Weber-Fechner: S = K_log_R (kay, log, are)
Biography:
Formed in 2011, Klogr releases the first album "Till You Decay" on the same year with line up including Rusty (vocals), Todd Allen, Nicola Briganti. Two videoclips: "Bleeding" and "Silk and Thorns" are published from the debut. In 2013 Klogr subdues a line-up change, incorporating all three members of alternative rock band Timecut. The new line up (Rusty, Joba, Giampi and Ste) releases the EP "Till You Turn", with the collaboration of Maki from Lacuna Coil, producer Logan Mader (Machine Head) and singer Alteria.
Videoclips from the EP include "King of Unknown" and "Guinea Pigs" (supporting Sea Shepherd).
After a US Tour and a European Tour, in June 2013 Klogr play at the Sweden Rock Festival.
In 2014 Klogr release second full-length concept album "Black Snow" (Zeta Factory /The End Records) focusing their lyrics and communication on environmental-conscius topics. Collaborates on Black Snow, Destrage's bass player Ralph Salati. The US digital edition of "Black Snow" includes EP "Till You Turn" and the Live album "Ground Zero 11-11-11".
In February 2014 Klogr release the video "Draw Closer".
In March–April 2014 Klogr share a 23 dates European Tour with Prong.
In May 2014 Klogr's frontman contributes, along with Prong's drummer Art Cruz, to Loudwire's viral initiative in memorial of Slayer's guitarist Jeff Hanneman with a short clip included in the official #ScreamForJeff pilot presentation.
A new single: Zero Tolerance dedicated to Sea Shepherd's mission in Taiji in defense of the bay's dolphins is released. Digital download income is devolved to support the activities of the sea wildlife protection organization.
In June 2014 Klogr release through a premiere on Metalinsider their first Lyric Video for the song Hell of Income. While working on a DVD which will see the light in 2015, in September 2014 Klogr release a live video for Failing Crowns: 23 shows condensed into 4 minutes.
On September 17, 2014 a major turning point for KLOGR: with the new line up consisting of Rusty on vocals and guitars, Pietro on guitars, Joba on bass and Rob on drums, the band leaves behind its status of a "project band" to become a band with a steady line up. In October 2014 Klogr are on the road again for a tour in Russia with Living Dead Lights (USA).