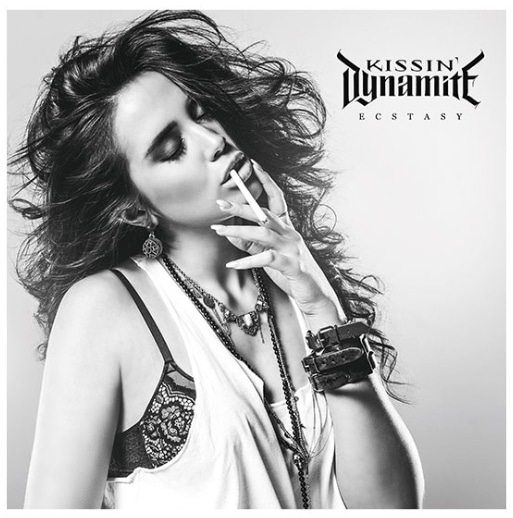 Kissin' Dynamite signs to Metal Blade Records and announces a new album, 'Ecstasy', out July 6th 2018.
First single and video "I've Got The Fire" are out now and proposed on PARIS-MOVE website!
Bring back stadium rock!
Today, Metal Blade Records are happy to announce the signing of Kissin' Dynamite, one of Germany's most promising rock bands. Sony Music label Columbia will handle affairs and releases of the group in Germany, Austria and Switzerland.
First on the agenda is the release of Ecstasy, Kissin' Dynamite's new studio album, on July 6th 2018. Ecstasy is the follow-up to Generation Goodbye (2016), which reached #14 in the official German album charts.
Produced by Kissin' Dynamite singer Hannes Braun, Ecstasy harks back to the quintet's unpolished, energy-laden early days, while at the same time marking a turning point in their eleven-year history.
In autumn, the group will embark on their first concert tour as special guest since changing labels. From October 26th 2018 on, Kissin' Dynamite will accompany Powerwolf, who are currently breaking all success records, for 16 joint gigs throughout Europe!
Check the first single from Ecstasy, "I've Got The Fire", now HERE
To pre-order the album, click HERE
Ecstasy track-listing:
1. I've Got The Fire
2. You're Not Alone
3. Somebody's Gotta Do It
4. Ecstasy
5. Still Around
6. Superhuman
7. Placebo
8. Breaking The Silence
9. Waging War
10. One More Time
11. Heart Of Stone
12. Wild Wind
13. No Time To Wonder
Kissin' Dynamite lineup:
Hannes Braun – vocals
Ande Braun – guitars
Jim Muller – guitars
Steffen Haile – bass
Andi Schnitzer – drums
Official Bio:
Be honest: What do terms such as "rock 'n' roll" or "rock musician" generally call to mind? Surely for most of us, it is the image of a slightly spent male in his mid-fifties, covered with tattoos and living in Los Angeles with an attitude towards the music business that suggests he handles the girls and the alcohol while his management deals with the entire rest. This image has one crucial fault: Real rock 'n' roll is no stereotype designed in the 80s, rather timeless and most of all, a way of life.
A proof for this are, believe it or not, five musicians of only half the age of said stereotype who live about 9500 miles away from Los Angeles. KISSIN' DYNAMITE from southern Germany have already been around for eleven years and will release their new studio album "Ecstasy" this summer.
It is a pure homage to the aforementioned way of life called rock 'n' roll. Pure, meaning no-frills or undiluted, "Ecstasy" distils that feeling you only encounter if you, like the fivesome from Swabia, keep touring for several months throughout Europe, Japan and Ukraine, where you, in dearth of any alternative, sleep at airports or backstage in clubs, confronted with the real life of rock musicians apart from rosy L.A. dreamland. "You need neither reinvent the wheel nor convey multiple messages with your songs," says drummer and main lyricist Andreas Schnitzer. "Catchy good-time hooks and enjoyable tunes full of passion – that's our thing and the reason for the foundation of the group," adds primary songwriter Hannes Braun.
Saying the quintet goes back to the roots with their new full-length might seem paradoxical, yet it's simply true. In the course of their career, which started with a major deal and a European tour alongside U.D.O., leading them around half the world, they have seen and experienced more than some folks in their late fifties. Despite countless setbacks, their dedication to music has never waned, on the contrary: it has just become stronger through a whole book of curious, funny, outrageous and incredible stories. In short: These stories characterise the new record "Ecstasy" in their original form and are indeed being compiled into a book, written by Andreas Schnitzer.
At the same time, the album, which continues on the umpolished, energetic path the band initially treaded, opens a new chapter. Produced by singer Hannes Braun, it is a return to major label glory through its release via Sony Columbia/Metal Blade. For the first time after multiple headlining tours, KISSIN' DYNAMITE will again travel around as special guests in autumn, namely for POWERWOLF, who are currently breaking all records of success.
KISSIN' DYNAMITE are an absolute exception within Germany's musical landscape and in some way the much-quoted breath of fresh air that's often sadly missing.
Official Facebook page: HERE