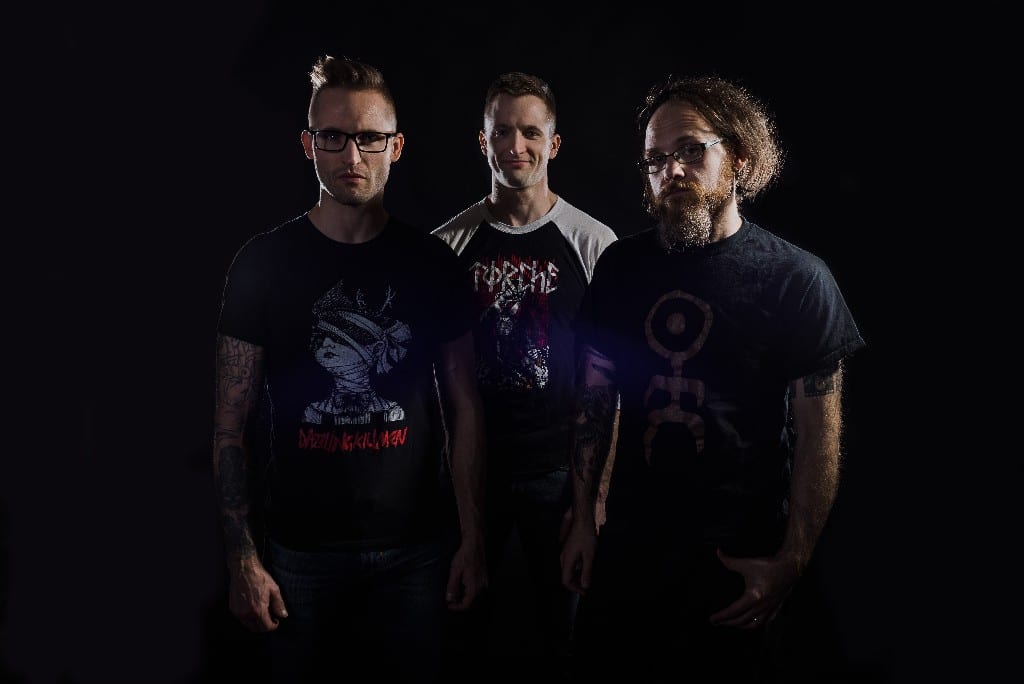 KEN mode are now streaming the first track taken from their new album, 'Loved', which has been slated for worldwide release on August 31st 2018.
The song "Doesn't Feel Pain Like He Should" is currently being streamed via Revolver magazine: HERE
Vocalist-guitarist Jesse Matthewson comments on the new album: "We entered writing for this album with one goal in mind – to please the smile. We wanted to make an album that represented a thinking person's reaction to the political/technological climate we are existing in today. We wanted to make the perfect album to put on repeat while pushing your physical limits to their maximum, if only to silence the noise that is constantly whirring around inside of your own head, even for a brief moment. We wanted tones that bash and cut, and for you to feel that desperate part of yourself clawing for a way out. And then, just when things are at their most bleak, you start to focus on what's actually being said, and you'll see the humor in absolutely everything that is transpiring before you. THAT is Loved."
Track-list of Loved album:
1. Doesn't Feel Pain Like He Should (2:51)
2. The Illusion Of Dignity (4:43)
3. Feathers & Lips (2:31)
4. Learning To Be Too Cold (3:08)
5. Not Soulmates (2:47)
6. Very Small Men (2:32)
7. This Is A Love Test (4:38)
8. Fractures In Adults (3:49)
9. No Gentle Art (8:29)
Total playing time: 35:28
Pre-order your record HERE
Kill Everyone Now mode (aka KEN mode) – an ethos legendary Black Flag frontman Henry Rollins would use to describe the band's state of mind while taking the stage for the endless touring cycle of their genre defying classic album, 'My War'. This proved to be the psychological foundation / attitude for the project brothers Jesse and Shane Matthewson formed in 1999 in their home of Winnipeg, Canada and that would see them spread a manic form of metal and hardcore infused with noise rock for their entire adult lives.
Cutting their teeth in the early aughts with a pair of records 'Mongrel' (2003) and 'Reprisal' (2006), KEN mode rose from underground notoriety with their JUNO award winning album 'Venerable' in 2011. This marked a decided shift for the band, embarking on an unrelenting touring schedule for the following five years with acts such as RUSSIAN CIRCLES, TORCHE, DEAFHEAVEN, KYLESA, REVOCATION and TODAY IS THE DAY, followed up by Season of Mist-released full lengths 'Entrench' (2013) and 'Success' (2015). Those records saw the band hit a multitude of major festivals like SXSW, Hellfest Open Air, CMJ Festival, Pitchfork Festival Chicago, Hopscotch Festival, and Roadburn Festival; and even doing live sessions for renowned institutions such as BBC Radio 1 and Daytrotter.
But burnout was inevitable, and in 2016 KEN mode took a step back to regroup. Core members Shane and Jesse formed their own music business management services company, MKM Management, while bassist Scott Hamilton released records with his other bands ADOLYNE and GREYLIGHT DISTRICT. In 2017 the band began writing with a newfound focus and desire, in the most collaborative effort they have ever put together.
'Loved', the band's brand new vicious full length may be the KEN mode's quintessential statement of violence and despair made sonic. Drawing from not only the desperate noise and industrial sonics of the '80s and '90s, the band mixes in the decidedly more extreme tone and presence of death and black metal, expertly captured by Andrew Schneider's (UNSANE, CAVE IN, DAUGHTERS) sick vision of noise and girth. 'Loved' represents yet another pivot point in the group's sound, a departure from the indie/noise punk focused 'Success' album. The group delves deeper and darker than ever before.
Line-up:
Jesse Matthewson – vocals, guitar, percussion, piano
Shane Matthewson – drums
Scott Hamilton – bass, backing vocals, percussion
Kathryn Kerr – saxophone
Style: Noise Metalcore
Official website: HERE
Facebook page: HERE
KEN mode Bandcamp: HERE