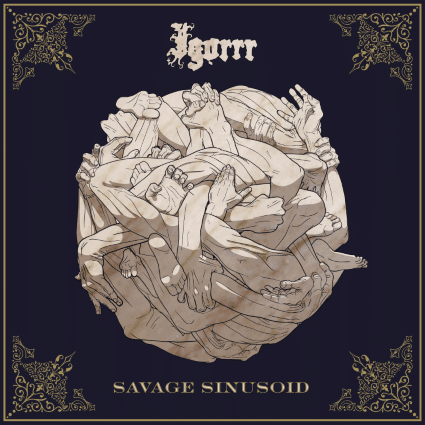 On June 16th, IGORRR – the brainchild of French musician and eclectic composer Gautier Serre – will release their new album, "Savage Sinusoid", via Metal Blade Records.
On this record, electronic manipulations, accordion, saxophone, sitar, harpsichord, mandolin and strings sit comfortably alongside ruthless blastbeats, chunky riffs, death grunts and soaring operatic vocals – and as chaotic as this might sometimes seem, there is no lack of heart behind everything thundering from the speakers.
The record can be pre-ordered here and in the following formats:
— Digipak CD
— pale skin clear vinyl (limited to 500 copies)
— cream/white splatter (limited to 200 copies – EU exclusive)
— golden yellow vinyl (limited to 100 copies – Bandcamp exclusive)
— tan-marbled vinyl (limited to 200 copies – US exclusive)
*exclusive bundles with a shirt, plus digital options are also available!
"Savage Sinusoid" track-listing:
1. Viande
2. ieuD
3. Houmous
4. Opus Brain
5. Problème d'émotion
6. Spaghetti Forever
7. Cheval
8. Apopathodiaphulatophobie
9. Va te foutre
10. Robert
11. Au Revoir
To realize "Savage Sinusoid" as a completely sample-free record, Gautier Serre reunited with vocalists Laurent Lunoir and Laure Le Prunenec, along with drummer Sylvain Bouvier, and collaborated with more musicians than on any of his previous releases – one of those guests being Cattle Decapitation's Travis Ryan, who lends his vocals on "Cheval", "Apopathodiaphulatophobie" and "Robert".
"Viande" also sees Teloch (Mayhem) contribute some guitar/bass work, while "Houmous" features accordionists Pierre Mussi and Adam Stacey (the latter of whom is in Secret Chiefs 3 – a project by Mr. Bungle's Trey Spruance). While "Savage Sinusoid" draws from a plethora of genres, Serre has no intention of baffling or alienating potential listeners. As he explains: "I just want to make the music I love, without asking myself if it's gonna be too complex or too far from what people like. I want to make the music which has sense to me, with no restrictions, like a big party with metalheads, electronics nerds, classical and baroque-heads and gypsy violinists getting drunk and joining together to bring the best of every genre."
IGORRR will give European fans their first taste of new songs this spring/summer, with more shows to be announced soon. See below for all dates:
June 17 – Hellfest Open Air – Clisson, France
Jul. 7 – What The Fest?!#2 – Vendargues, France
Jul. 9 – UK Tech Fest – Winthorpe, United Kingdom
Jul. 15 – Dour Festival – Dour, Belgium
Aug. 11 – Brutal Assault – Jaromer, Czech Republic
Oct. 17 – l'Aeronef – Lille, France
Nov. 15 – La Maroquinerie – Paris, France