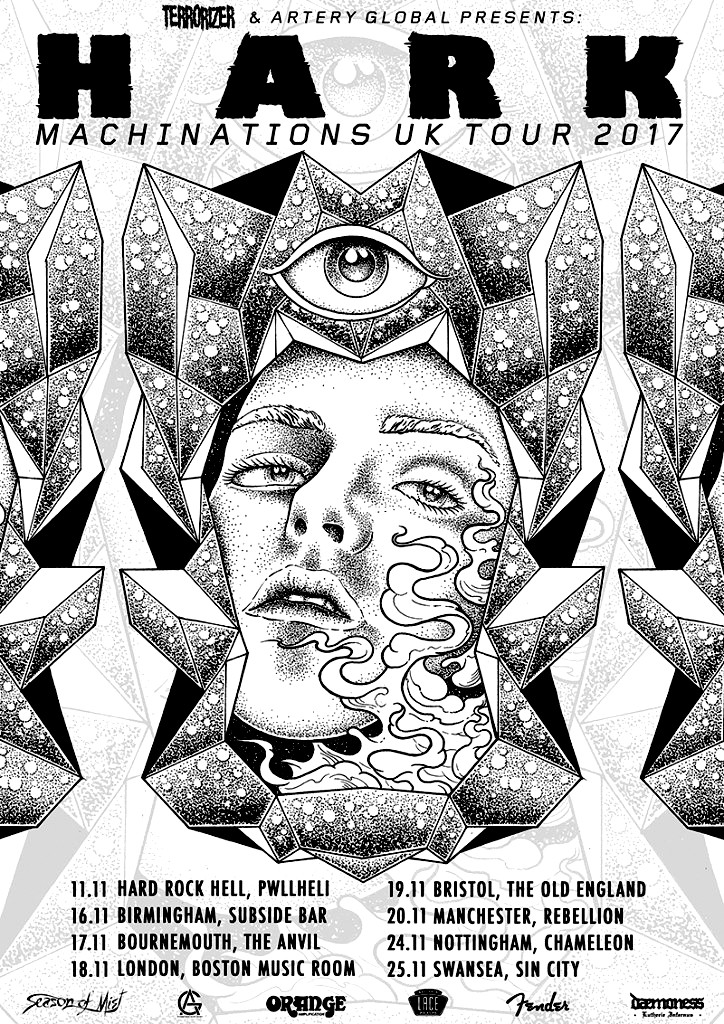 HARK have conjured a sorcerous new video for the track "Nine Fates" taken from their current album, 'Machinations'. The Welsh rock shamans are streaming their fantastic clip at the link below, which can be freely and immediately published. Video is HERE
HARK mastermind Jimbob comments: "While 'Machinations' has an overarching theme of technological overload, the deeper levels of lyrical matter point towards both spiritual and ancestral foundations. 'Nine Fates' digs further beneath the surface, and with that we took the video shoot to our homelands of Wales, to evoke the ancestral voices that can speak through us, if we let them. Being control freaks and creativity junkies, we directed, shot and edited the video ourselves. HARK is as always a hands-on entity. Other than collaborating with some close allies on the VFX, we made every inch of this video ourselves. Like the depicted Shaman conjuring her majik in the forest, we conjured this video from an unspoken part of our collective psyche. The nine fates will be done."
HARK have previously announced more UK shows in support of their latest release 'Machinations' this November.
.
HARK
11 Nov 17 Pwllheli (UK) Hard Rock Hell Festival
16 Nov 17 Birmingham (UK) Subside Bar
17 Nov 17 Bournemouth (UK) The Anvil
18 Nov 17 London (UK) Boston Music Room
19 Nov 17 Bristol (UK) The Old England
20 Nov 17 Manchester (UK) Rebellion
24 Nov 17 Nottingham (UK) Chameleon
25 Nov 17 Swansea (UK) Sin City
HARK will be touring in support of their full-length 'Machinations' which was released on February 24 2017. Album details can be found below.
Track-list:
1. Fortune Favours The Insane
2. Disintegrate
3. Nine Fates
4. Speak In Tongues
5. Transmutation
6. Son Of Pythagoras
7. Premonitions
8. Comnixant 3.0
9. The Purge
.
With their second full-length 'Machinations', HARK deliver a perfectly crafted vision of sludge-infused hard rock, while further expanding on their simultaneously progressive and muscular sonic palette.
'Machinations' is an intelligent, forward-thinking rock record, in an age where cult nostalgia trips and retrogressive throwbacks are all too common. Taking cues from Jimbob Isaac's sludge metal legacy in Welsh underground heroes TAINT.
In addition to Simon Bonwick's bombastic drumming, the hard-hitting rockers have meanwhile expanded their line-up to include the virtuoso chops of lead guitarist Joe Harvatt, while bassist Tom Shortt holds the low end down with weighty grind and dexterity. HARK v2.0 is now officially in widescreen. They offer a holistic, collective approach to inventive song craft and beautifully precise pummelling.
HARK's acclaimed debut 'Crystalline' (2014) displayed a maturity hardly expected from a debut, with global critical acclaim dubbing it a 'game changer' in the sludge and stoner rock sphere. 'Machinations' was recorded with Andy Hawkins at The Nave (Leeds, UK) and Gethin Pearson at The Bassment of Sonic Architecture (Pontypool, UK). Mixing is handled this time by Pearson, Harvatt and Isaac, while James Plotkin (SUNN O))), ISIS, KHANATE) takes on mastering duties. With this dedicated, hands-on approach, 'Machinations' will allow HARK to further spread their wing into spheres unknown.
Jimbob Isaac's soaring and gritty lead vocals convey the existential angst of living in the media saturated and economically unstable climate from which 'Machinations' was born. His fragmented and deeply subconscious lyrical flow, talks of abstracted emotions, spiritual disintegration, toxic encounters, psychic endeavours, and technological overload. Isaac's complex prose is woven into a sonic tapestry created by he and his band mates that will make heavy rock listeners stand to attention.
Isaac also envelopes this record with his distinctive artwork, creating a pen and ink space-scape, an all-enveloping world of machinated beauty and a fine line near-future. Truly anchoring and expanding the HARK universe in all its pointillised, detailed splendour.
Having honed their live act on tours with the likes of CLUTCH, RED FANG, PRONG, KEN mode and A STORM OF LIGHT, HARK are a genuine force to be reckoned with. Following praised appearances at renowned festivals such as Roadburn, Hellfest, Summer Breeze, Bloodstock, and Damnation, the Welsh heavy rockers have clearly succeeded in transforming their live energy into 'Machinations'. This newly incarnated quartet is ready to conquer the world!
.
Line-up:
Jimbob Isaac: guitars, vocals
Joe Harvatt: guitars
Tom Shortt: bass
Simon Bonwick: drums