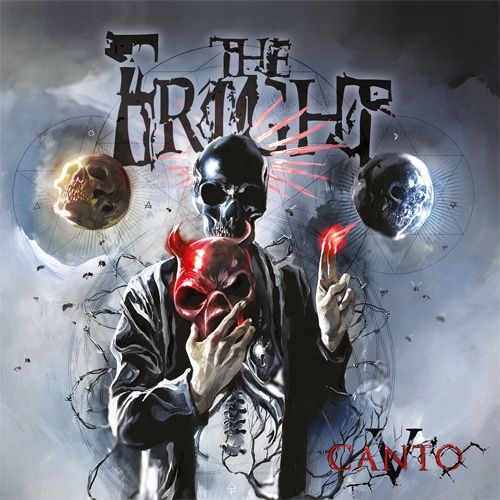 THE FRIGHT to release new album "Canto V" October 13, 2017!
Artwork and Tracklisting revealed here, on PARIS-MOVE!
Put your hand on your heart: It's hardly going to be any old random stories when a band like the Fright names its latest release after one of the greatest works of world literature. The title Canto V goes back to Dante's Inferno, in other words to the opening section of his Divine Comedy, and it documents two things: Firstly, it's the fifth studio album by the formation from Thüringen (which explains the Roman symbol for 5), secondly, it's a particularly special piece of work, both musically and with regard to subject matter. For, even more than on their previous releases, on Canto V the Fright perfect their greatest strengths. At the same time, their first-class songwriting once again effortlessly meets international standards, sounding as catchy as it is ambitious. As we have become accustomed, the Thuringian dark rockers' sound derives from a wide variety of sources, from Gothic Rock legends like Bauhaus, The Cult, The Mission, Sisters Of Mercy or 69 Eyes (who The Fright toured with in 2013) to traditional hard rock à la Whitesnake, Mötley Crüe, Guns N` Roses or Skid Row. "I love Sebastian Bach!" confesses singer Lon Fright, who founded the group back in 2002. Canto V is to be released on 13 October 2017 by Steamhammer/SPV, so save the date with a big fat cross in your calendar.
The album "Canto V" was produced by very well known Waldemar Sorychta (Lacuna Coil, Tiamat, Sodom, Moonspell and many others) who did a fantastic job.
Cover art of "Canto V" by well known German artist Timo Würz (Marvel and DC Comics, Band artwork for ASP, Psychopunch and many others)​
Waldemar Sorychta about the co-operation with THE FRIGHT: "This is a really outstanding band and they present a well dosed mixture between Gothic tunes and Metal. Strong melodies and hooklines alongside a very talented shouter – this is top notch! The whole production process was was extremely enjoyable. I definitely found some new friends. Thanks a lot guys."
More information on video releases (4 videos from the album are coming!!!!) and live shows to follow asap.
"Canto V" will be available in the following physical formats:
+ CD digipack
+ Limited Editon (500 only worldwide!) Vinyl Edition in Gatefold sleeve
180 gr. vinyl, transparent red with black streaks, 2 sided poster and CD in papersleeve containing the entire album
Tracklist CD Digipack:
1.Bonfire
2. No One
3. Wander Alone
4. Love Is Gone
5. Fade Away
6. Oblivion
7.Leave
8 Drowned In Red
9. Century Without A Name
10. In Sicherheit
Tracklisting LP:
SIDE A
1.Bonfire Night
2.No One
3. Wander Alone
4 Love Is Gone
5.Fade Away
SIDE B
1.Oblivion
2.Leave
3.Drowned In Red
4. Century Without A Name
5.In Sicherheit