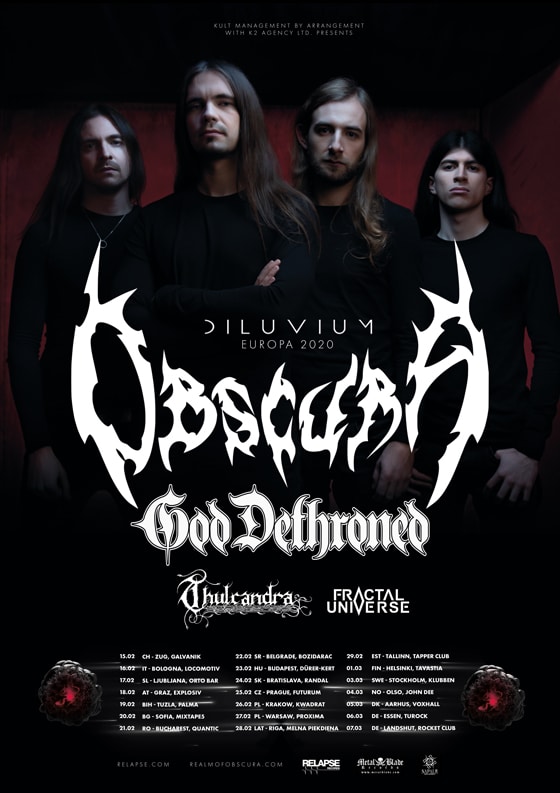 PARIS-MOVE, October 25th 2019 – FRACTAL UNIVERSE on Tour with Obscura, God Dethroned & Thulcandra in 2020!
The news is on PARIS-MOVE: "We're stoked to announce that in early 2020, we'll be hitting the road for 21 shows all over Europe alongside Prog-Death giants Obscura as well as our Metal Blade Records label-mates from God Dethroned and German Death/Black heavyweights Thulcandra!
This is a huge opportunity for the band and we're looking forward to meeting old and new fans all over Europe!
Special thanks to Kult Management and Obscura for their trust!"
TOUR DATES:
Feb. 15: ZUG (CH) – GALVANIK
Feb. 16: BOLOGNA (IT) – LOCOMOTIV
Feb. 17: LJUBLJANA (SI) – ORTO BAR
Feb. 18: GRAZ (AT) – EXPLOSIV
Feb. 19: TUZLA (BIH) – PALMA
Feb. 20: SOFIA (BG) – MIXTAPE5
Feb. 21: BUCHAREST (RO) – QUANTIC CLUB
Feb. 22: BELGRADE (RS) – BOZIDARAC
Feb. 23: BUDAPEST (HU) – DÜRER-KERT / INSTANT
Feb. 24: BRATISLAVA (SK) – RANDAL
Feb. 25: PRAGUE (CZ) – FUTURUM
Feb. 26: KRAKOW (PL) – KWADRAT
Feb. 27: WARSAW (PL) – PROXIMA
Feb. 28: RIGA (LV) – MELNA PIEKTDIENA
Feb. 29: TALLINN (EE) – TAPPER CLUB
Mar. 01: HELSINKI (FIN) – TAVASTIA
Mar. 03: STOCKHOLM (SWE) – KLUBBEN
Mar. 04: OSLO (NO) – JOHN DEE
Mar. 05: AARHUS (DK) – VOXHALL
Mar. 06: ESSEN (DE) – TUROCK
Mar. 07: LANDSHUT (DE) – ROCKET CLUB
Unfortunately no date is planed at the moment for France and the UK, but let's fingers crossed and let's be sure a few dates will be confirmed soon or later for 2020!
Fractal Universe Facebook page HERE
Second album "Rhizomes of Insanity" out on April 19th 2019 via Metal Blade Records.
On line Store HERE
"Rhizomes of Insanity" has been out for a little over 7 months now, and has already been streamed over 224K times on Spotify!
Thank you so much for your support!
Listen to "Rhizomes of Insanity" on Spotify HERE
Line up:
Vince Wilquin – Guitar / Vocals
Hugo Florimond – Guitar
Valentin Pelletier – Bass
Clément Denys – Drums