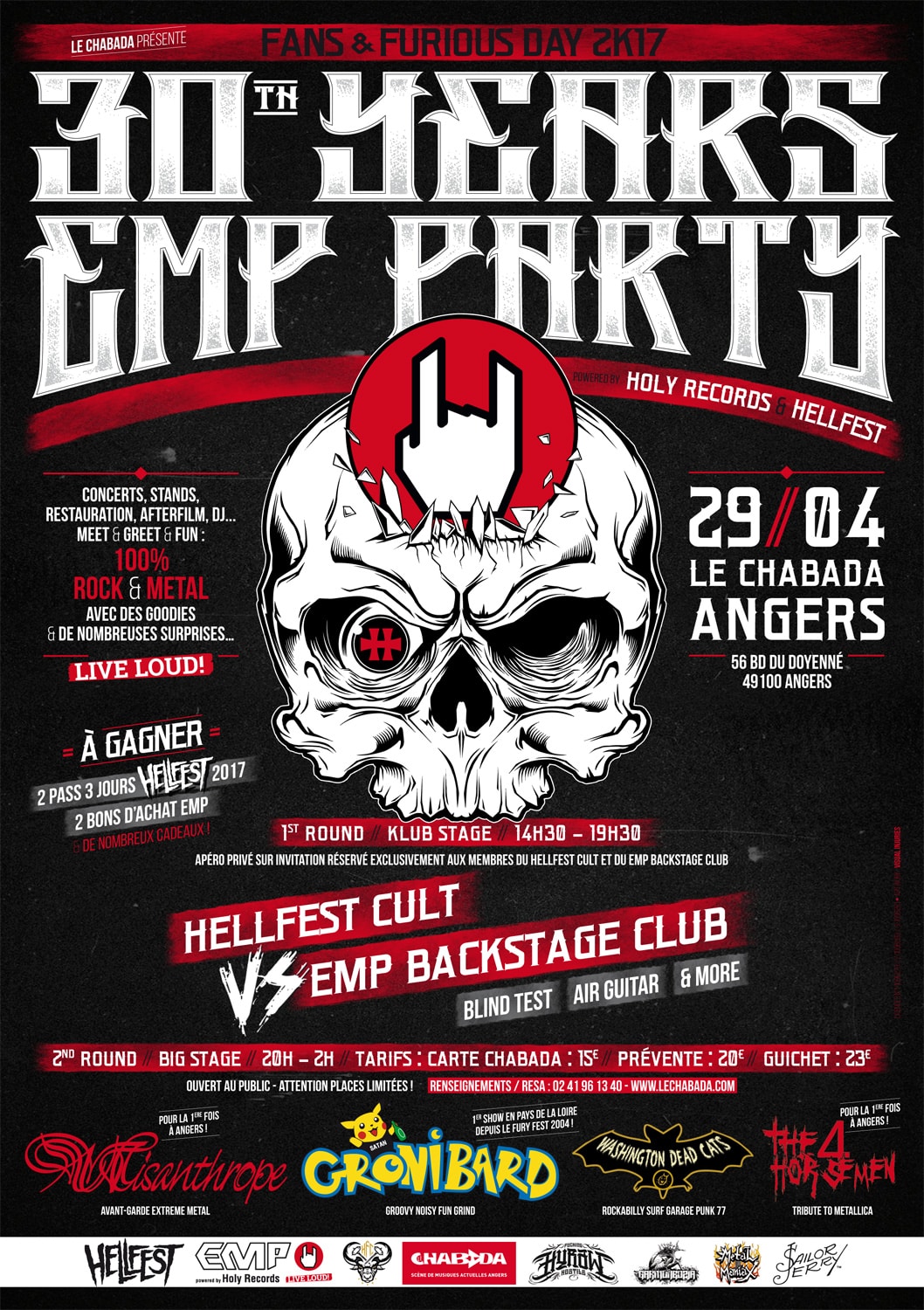 30 ans, cela se fête !  EMP powered by Holy Records, récemment installée à Angers, a choisi le CHABADA pour célébrer son anniversaire et s'associe avec son partenaire historique, le HELLFEST.
.
Au programme de ce FANS & FURIOUS DAY du 29 avril 2017, des animations et des surprises à gogo dès 14h30 en club privé sur invitation pour les membres du Backstage Club et du Hellfest Cult. À partir de 19h30, la soirée s'ouvre au public avec des concerts exceptionnels et de nombreux cadeaux !
Le déroulement de ce FANS & FURIOUS DAY du 29 avril 2017 :
1st Round (14h30-19h15 / Privé, sur invitation !) KLUB STAGE :
Hellfest Cult VS EMP Backstage Club
Apéro privé sur invitation réservé exclusivement aux membres du Hellfest Cult et du EMP Backstage Club
Animations : Blind Test / Air Guitar & more
2nd Round (19h15-02h00 /18€-20€-23€ ) BIG STAGE :
Soirée ouverte au public avec 4 concerts exceptionnels.
Attention places limitées !
The 4 Horsemen (Tribute to Metallica) – pour la 1ère fois à Angers !
Washington Dead Cats (Rockabilly Surf Garage Punk 77)
Gronibard (Groovy Noisy Fun Grind) – 1er show en Pays de la Loire depuis le Fury Fest 2004 !
Misanthrope (Avant-Garde Extreme Metal) – pour la 1ère fois à Angers !
À GAGNER sur place :
2 PASS 3 Jours Hellfest 2017,
2 bons d'achat EMP,
et de très nombreux cadeaux !
Stands, Restauration, Afterfilm, DJ, Meet & Greet & Fun : 100% Rock & Metal avec des goodies et de nombreuses surprises… Live Loud !
Où vous rendre le 29 avril ?
Au Chabada, 49100 Angers !!