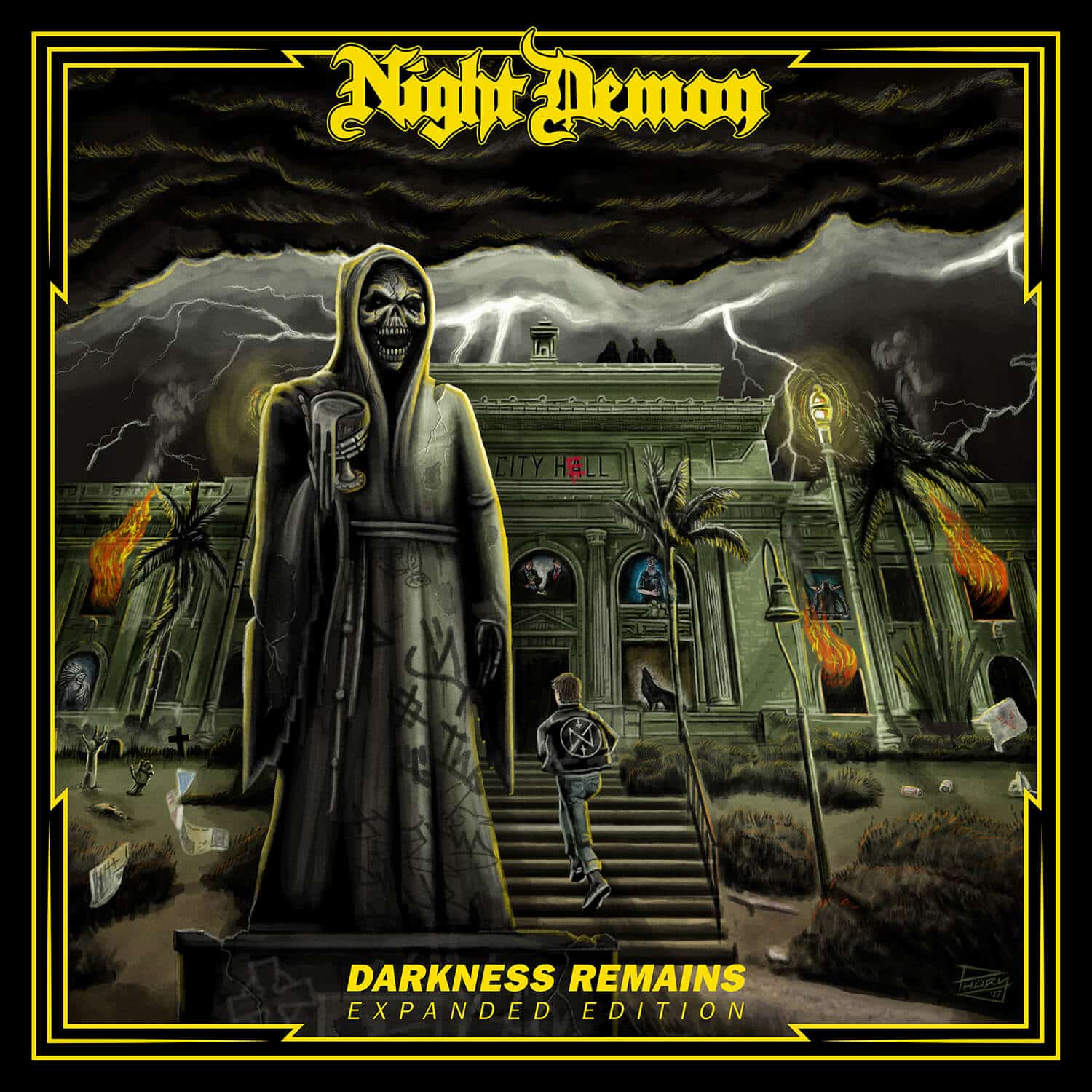 NIGHT DEMON News:
— Expanded edition of "Darkness Remains" out January 12th, 2018!
— On tour with ACCEPT in 2018!
.
California Metal outfit NIGHT DEMON are pleased to unveil a special treat for their European fans: a massive expanded edition of their latest highly acclaimed album "Darkness Remains".
Jarvis Leatherby says: "Night Demon is proud to present the expanded edition of our current album Darkness Remains! We have been blown away by the positive response of the record so far, that we thought it a great idea to release these assets to the fans right smack in the middle of the album's cycle. Why wait twenty or thirty years to unearth the forensic building blocks of Darkness Remains? We are all alive now, and living this thing day to day, so let's celebrate it! This expanded edition of Darkness Remains will be released on January 12, 2018 via SPV/Steamhammer, to coincide with the kickoff of our European tour with teutonic metal legends ACCEPT. It will feature the original master, alternate mix and master, the b-side cover songs, a couple demos and alternate studio versions, additional artwork, and a full track by track commentary from the band. Thanks for all the support. This one is for all of you who have supported us from the start!"
"Darkness Remains – Expanded Edition" will be released through SPV/Steamhammer europeanwide on January 19th, 2018 as a double CD digipak, download and stream.
Tracklisting :
CD1
Original Master
1-WELCOME TO THE NIGHT 3:51
2-HALLOWED GROUND 3:53
3-MAIDEN HELL 2:43
4-STRANGER IN THE ROOM 4:09
5-LIFE ON THE RUN 3:34
6-DAWN RIDER 3:22
7-BLACK WIDOW 3:26
8-ON YOUR OWN 3:27
9-FLIGHT OF THE MANTICORE (instrumental) 4:06
10-DARKNESS REMAINS 5:31
.
Bonus Material
11-TURN UP THE NIGHT (Black Sabbath cover version) 3:25
12-WE WILL ROCK YOU (Queen cover version) 2:58
13-LIFE ON THE RUN (instrumental/alternate studio take) 3:28
14-FLIGHT OF THE MANTICORE (instrumental/demo version) 4:06
CD2
Bright Lights Mix
1-WELCOME TO THE NIGHT 2:42
2-HALLOWED GROUND 3:24
3-MAIDEN HELL 2:45
4-STRANGER IN THE ROOM 4:10
5-LIFE ON THE RUN 3:36
6-DAWN RIDER 3:23
7-BLACK WIDOW 3:27
8-ON YOUR OWN 3:29
9-FLIGHT OF THE MANTICORE (instrumental) 4:09
10-DARKNESS REMAINS 5:21
.
Track by Track Audio Commentary
1-WELCOME TO THE NIGHT 4:23
2-HALLOWED GROUND 3:27
3-MAIDEN HELL 2:48
4-STRANGER IN THE ROOM 3:47
5-LIFE ON THE RUN 3:39
6-DAWN RIDER 2:45
7-BLACK WIDOW 3:13
8-ON YOUR OWN 2:13
9-FLIGHT OF THE MANTICORE 3:33
10-DARKNESS REMAINS 5:34
On Tour dates 2017:
08.11.GB-Edinburgh – Bannermam's
09.11.GB-Glasgow – Nice N Sleazy
10.11.GB-Southampton – The Firehouse
11.11.GB-London – The Dev
12.11.GB-Newcastle – Trillions
13.11.GB-Belfast – Voodoo
14.11.IRE-Dublin – On The Rocks
16.11.D-Mannheim – 7er Club
On Tour with ACCEPT 2018:
12.01.18 D-Hamburg – Mehr! Theater
13.01.18 D-Filderstadt – Filharmonie
14.01.18 D-Munich – Tonhalle
16.01.18 D-Leipzig – Haus Auesee
17.01.18 D-Berlin – Huxleys
19.01.18 D-Geiselwind – Event Zentrum
20.01.18 CZ-Zlin – Euronics
21.01.18 HU-Budapest – Barba Negra
23.01.18 I-Milano – Live Club
24.01.18 CH-Zurich – Komplex
26.01.18 E-Barcelona – Razzmatazz
27.01.18 E-Madrid – La Riviera
28.01.18 E-Bilbao – Santana 27
30.01.18 F-Saint Etienne – Le Fil
01.02.18 F-Lille – Aeronef
02.02.18 D-Saarbrücken – Garage
03.02.18 CH-Lausanne – Les Docks
04.02.18 D-Frankfurt – Batschkapp
06.02.18 NL-Eindhoven – Effenaar
07.02.18 B-Antwerp – Trix
08.02.18 GB-London – Koko
09.02.18 D-Oberhausen – Turbinenhalle
11.02.18 DK-Copenhagen – Vega
12.02.18 NO-Oslo – Rockefeller
14.02.18 SE-Gothenburg – Trädgårn
15.02.18 SE-Stockholm – Cruise
17.02.18 FI-Turku – Logomo
Festivals 2018:
18.-20.05.D-Gelsenkirchen – Rock Hard Festival
02.08.-04.08.D-Wacken – Wacken Open Air
Official Facebook Page: HERE