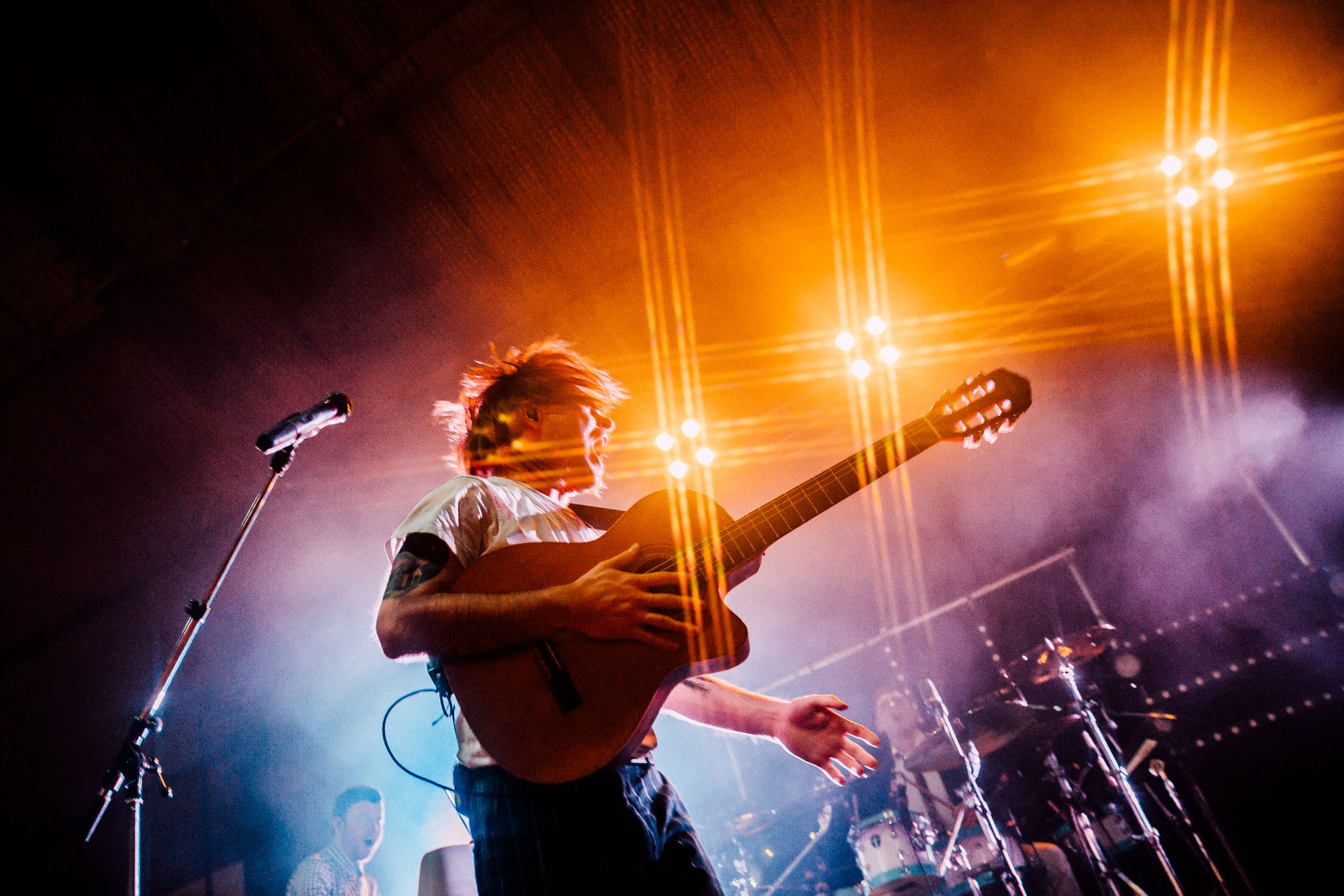 Enter Shikari announce 2 Live records as well a European Tour with 2 dates in France!
The 2 Live albums are :
— 'LIVE AT ALEXANDRA PALACE 2'
&
— 'TAKE TO THE SKIES, LIVE IN MOSCOW'
Both for the 15.02.2019
Be quick and pre-order your 2 records on the Enter Shikari on line Store, HERE
In this bundle you get
– Live at Alexandra "Palace 2" 2xLP in the colourway of your choice
– Take To The Skies: Live in Moscow 2xLP in the colourway of your choice
– Custom Enter Shikari USB stick with HD video files of both shows
– The preorder-exclusive Moscow Live T-Shirt in the size of your choice
– a handsigned setlist from the Alexandra Palace show
All together in one bundle for a cheaper price! Pre-order this bundle HERE
One year on from the acclaimed Enter Shikari live show at Alexandra Palace in support of Top 10, award winning album 'The Spark', the band will release 'Live At Alexandra Palace 2. Bootleg Series Vol. 10' on 15th February 2019. The album captures the excitement and intensity of Enter Shikari at their most impressive on the final UK dates of the 2017 tour.
In addition the band will be releasing 'Take To The Skies. Live in Moscow. May 2017. Bootleg Series Vol. 9', a deluxe 2 x LP vinyl set recorded in front of more than 6000 fans at Russia's Adrenaline Stadium in Moscow during the band's brief #TTTS2017 tour celebrating the 10 year anniversary of the debut album.
Also available alongside both audio releases will be a limited edition USB containing HD files of the full shows on film, and the footage of both shows will be available via streaming and digital platforms.
Both albums are available to pre-order from midnight on 29th November 2018 from HERE with two tracks from each available as instant grats on all pre-orders.
The albums will be available on all digital platforms via PIAS and in limited edition physical from HERE
Watch 'Rabble Rouser' from Ally Pally 2 HERE
Watch 'Sorry You're Not A Winner' from Live In Moscow HERE
"I can't believe we're at volumes 9 and 10 of our Bootleg Series already. It's nice to be able to share these snapshots from across the years, especially as 2017 was such a strange year for Shikari shows. Kicking off the year looking backwards a whole decade – not something we really do all that often – and ending the year with a new album and tour of the biggest rooms we've been in so far. It's good to be able to reflect that with these releases." – Rou Reynolds
'Live at Ally Pally 2' Tracklist:
01. The Spark
02. The Sights
03. Solidarity
04. Anything Can Happen In The Next Half Hour
05. Take My Country Back
06. The Last Garrison
07. Radiate
08. Undercover Agents
09. Arguing With Thermometers
10. Rabble Rouser
11. Airfield
12. Adieu
13. Anaesthesist
14. Sorry You're Not A Winner (Quickfire Round)
15.Sssnakepit (Quickfire Round)
16. Meltdown (Quickfire Round)
17. Antwepen (Quickfire Round)
18. Zzzonked
19. Redshift
20. Live Outside
21. The Embers
Oder your record HERE
'TTTS Live In Moscow' Tracklist:
01. Stand Your Ground
02. Enter Shikari
03. Mothership
04. Anything Can Happen In The Next Half Hour
05. Interlude 1
06. Labyrinth
07. Hoodwinker
08. Sorry You're Not A Winner
09. Juggernauts
10. No Sweat
11. Today Won't Go Down In History
12. Anaesthetist
13. Return To Energiser
14. Jonny Sniper
15. Adieu
16. Redshift
17. Ok Time For A Plan B
18. Appeal 2
Order your record HERE
'The Spark – Lyrics & Exegesis of Rou Reynolds', a companion paperback book to 2017's 'Dear Future Historians' hardback is out this week and has already sold out. The book published by Faber compiles lyrics and essays from Enter Shikari's fourth album 'The Spark'.
Enter Shikari's longest tour to date, the 'Stop The Clocks Tour', begins this Saturday in Lincoln and continues until April 2019 with supports from Palaye Royale, Milk Teeth, Black Peaks and Modern Error. Full tour dates below.
Enter Shikari 2018/19 tour dates below:
DECEMBER 2018
(support MILK TEETH + MODERN ERROR)
1st – UK. Lincoln, Engine Shed – *SOLD OUT*
2nd – UK. Stoke, Keele SU
3rd – UK. Hull**, The Welly – *SOLD OUT*
4th – UK. Cardiff**, Tramshed – *SOLD OUT*
6th – UK. Frome**, Cheese & Grain
7th – UK. Exeter**, Lemongrove – *SOLD OUT*
8th – UK. Plymouth**, SU – *SOLD OUT*
9th – UK. Portsmouth**, Pyramids – *SOLD OUT*
12th – NO. Bergen**, Garage
13th – NO. Oslo**, John Dee
14th – SV. Stockholm**, Fryshuset
15th – SV. Gothenburg**, StickyFingers
16th – DK. Copenhagen**, Pumpehuset, Denmark
JANUARY 2019
(support PALAYE ROYALE + BLACK PEAKS)
10th – UK. Sheffield, o2 Academy (**no Black Peaks)
11th – UK. Nottingham, Rock City – *SOLD OUT*
12th – UK. London, o2 Brixton Academy
13th – UK. Leicester, o2 Academy
15th – UK. Llandudno, Cymru
16th – UK. Liverpool, o2 Academy
18th – UK. Bristol, o2 Academy – *SOLD OUT*
19th – UK. Southend, Cliffs Pavilion
20th – UK. Norwich, UEA
23rd – UK. Glasgow, Barrowland
24th – UK. Aberdeen, Beach Ballroom
25th – UK. Inverness, Ironworks
26th – UK. Preston, Guildhall
28th – UK. Northampton, Roadmender – *SOLD OUT*
29th – UK. Southampton, Guildhall
30th – UK. Cambridge, The Junction
FEBRUARY 2019
(support PALAYE ROYALE + BLACK PEAKS)
1st – UK. Birmingham, o2 Academy
2nd – UK. Leeds, o2 Academy
3rd – UK. Manchester, Academy
4th – UK. Newcastle, o2 Academy
MARCH 2019
7th – RU. Moscow, Adrenaline Stadium
9th – RU. St Petersburg, A2 Green Concert
11th – RU. Nizhniy Novgorod, Jupiter
13th – RU. Krasnodar, Arena Hall
15th – RU. Ekaterinburg, Teleclub
16th – RU. Rostov-na-Donu, Arena Don
17th – RU. Krasnoyarsk, Grand Hall Sibir
19th – RU. Irkutsk. Sport Palace Trud
28th – NL. Tilburg, 013
with 2 dates in France:
29th – FR. Strasbourg, Laiterie – Facebook event page HERE
30th – FR. Paris, Bataclan – Facebook event page HERE
APRIL 2019
1st – IT. Milan, Alcatraz
2nd – DE. Munich, Neue Theatrefabrik
3rd – AT. Linz, Posthof
4th – HU. Budapest, Akvarium
6th – CZ. Prague, Forum Karlin
7th – DE. Dresden, Alter Schlachthof
8th – DE. Berlin, Huxleys
9th – DE. Leipzig, Conne Island
11th – DE. Erlangen, E-Werk
12th – DE. Dortmund, PWZ – *SOLD OUT*
13th – DE. Cologne, LMH – *SOLD OUT
15th – DE. Wiesbaden, Schlachthof
16th – DE. Saarbrucken, Garage
17th – BE. Brussels, AB
Tickets available HERE
Facebook page: HERE
Twitter account: HERE
Instagram account HERE