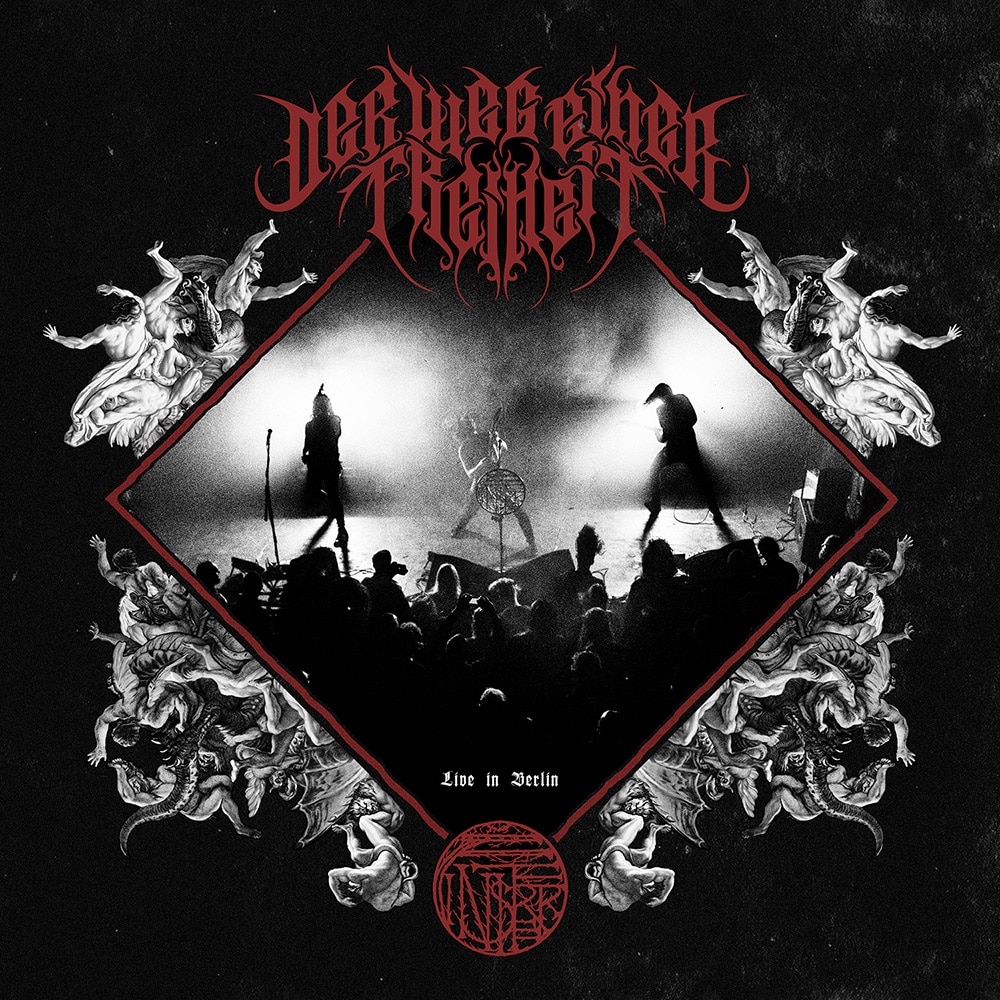 DER WEG EINER FREIHEIT have announced the release of a brand new live album. The show has been recorded in Lido, Berlin on October 14th, 2017. 'Live in Berlin' will be released on March 1, 2019. The tracklist and coverartwork can be found below.
Vocalist Nikita Kamprad comments: "With this live recording we're proud to present a testimony from our biggest headline tour across Europe we've done so far. With our French brothers from REGARDE LES HOMMES TOMBER this tour was nothing but a total blast and after 22 relentless nights we've managed to multitrack the 23rd and final show at Lido, Berlin on October 14th, 2017. This recording strips down our setup to the very essentials and reveals the true character of this band. With 10 songs and a total playtime of 80 minutes the album is almost twice as extensive as a regular DWEF full-length and covers tracks from all five releases. The album will be available as limited gatefold vinyl and on all digital platforms, pre-orders start around mid January."
'Live in Berlin' Tracklist:
1. Einkehr – Live in Berlin (06:17)
2. Der stille Fluss ‐ Live in Berlin (08:05)
3. Repulsion ‐ Live in Berlin (08:59)
4. Skepsis Part I ‐ Live in Berlin (05:08)
5. Skepsis Part II ‐ Live in Berlin (06:07)
6. Ewigkeit ‐ Live in Berlin (07:09)
7. Zeichen ‐ Live in Berlin (13:15)
8. Aufbruch ‐ Live in Berlin (11:58)
9. Lichtmensch ‐ Live in Berlin (05:30)
10. Ruhe ‐ Live in Berlin (06:13)
DER WEG EINER FREIHEIT have previously announced a tour in celebration of their 10th anniversary, with CELESTE, AU-DESSUS and THE DEVIL'S TRADE.
Tour dates are HERE on PARIS-MOVE…!!!!!
DER WEG EINER FREIHEIT tour
with AU-DESSUS and CELESTE and THE DEVIL'S TRADE
28 Mar 19 Paris (FR) Le Petit Bain *
30 Mar 19 Toulouse (FR) Le Metronum *
31 Mar 19 Barcelona (ES) Bóveda *
01 Apr 19 Lyon (FR) Rock n Eat *
02 Apr 19 Esch/Alzette (LU) Kulturfabrik *
03 Apr 19 Cologne (DE) Luxor *
04 Apr 19 Tilburg (NL) Little Devil *
05 Apr 19 Dresden (DE) Beatclub *
06 Apr 19 Hamburg (DE) Knust *
07 Apr 19 Nuremburg (DE) Hirsch **
08 Apr 19 Prague (CZ) Futurum **
09 Apr 19 Vienna (AT) Arena **
10 Apr 19 Munich (DE) Backstage **
11 Apr 19 Stuttgart (DE) Universum **
12 Apr 19 Berlin (DE) Lido **
13 Apr 19 Wiesbaden (DE) Schlachthof **
CELESTE (7. – 12.4.) *
AU-DESSUS (28.3. – 6.4.) **
THE DEVIL'S TRADE (all dates)
DER WEG EINER FREIHEIT festivals
20 Apr 19 Oslo (NO) Inferno Metal Festival
The musical puzzle that adds up to become DER WEG EINER FREIHEIT turns into something more complex – yet also clearer defined on the band's fourth studio album, 'Finisterre'. The original pieces are still in play: the aggressive German directness akin to ENDSTILLE and a penchant for brooding melancholy as embodied by IMPERIUM DEKADENZ. Spiralling psychedelic moments comparable to DEAFHEAVEN and WOLVES IN THE THRONE ROOM also find their place – as well as a knack for majestic melodies that shows parallels in Swedish black metal spearheaded by MARDUK and DARK FUNERAL.
Yet while DER WEG EINER FREIHEIT are clearly progressing along the lines laid out by their previous acclaimed effort, 'Stellar', the band has found a way to make these pieces fit more seamlessly. 'Finisterre' flows together into a coherent picture that stresses the Germans' unique approach and sound. This album marks the point where DER WEG EINER FREIHEIT turn their various influences into a work entirely of their own expression despite never trying to cover up their roots. This impressive maturity has been reached through several stages.
Founded in 2009 by guitarist Nikita Kamprad and vocalist Tobias Jaschinsky, DER WEG EINER FREIHEIT garnered early attention with their self-released debut 'Der Weg einer Freiheit' (2009), which quickly sold out and was re-issued with new drum tracks a year later. Following the 'Agonie' EP (2011), their second album 'Unstille' (2012) already cored international acclaim. In the aftermath of this record, co-founding member Tobias left and main songwriter Nikita Kamprad took over his vocal duties.
The frontman was first heard on third full-length 'Stellar' (2015), which saw DER WEG EINER FREIHEIT gaining traction across the pond as well as expanding their European base. Having performed along such diverse acts as WOLVES IN THE THRONE ROOM, NEAERA, THE BLACK DAHLIA MURDER, AMENRA, CRIPPLED BLACK PHOENIX, and DOWNFALL OF GAIA as well as playing prestigious festivals such as Graspop, Hellfest, Resurrection, Roadburn, Summer Breeze, and Wacken has honed the band's songwriting skills to razor-sharp precision.
'Finisterre' clearly stands at the apex (for now) of the steep climb that DER WEG EINER FREIHEIT have taken. This German star is finally shining in full black.
Current line-up:
Nikita Kamprad: guitars, vocals
Tobias Schuler: drums
Nico Rausch: guitars
Nico Ziska: bass
Recording line-up:
Nikita Kamprad: guitars, bass, vocals
Tobias Schuler: drums
Style: Black Metal
Recording: Ghost City Recordings, Nikita Kamprad
Mixing: Ghost City Recordings, Nikita Kamprad
Mastering: Original Mastering, Philipp Welsing
Cover art: Max Löffler
Website: HERE
Facebook page: HERE