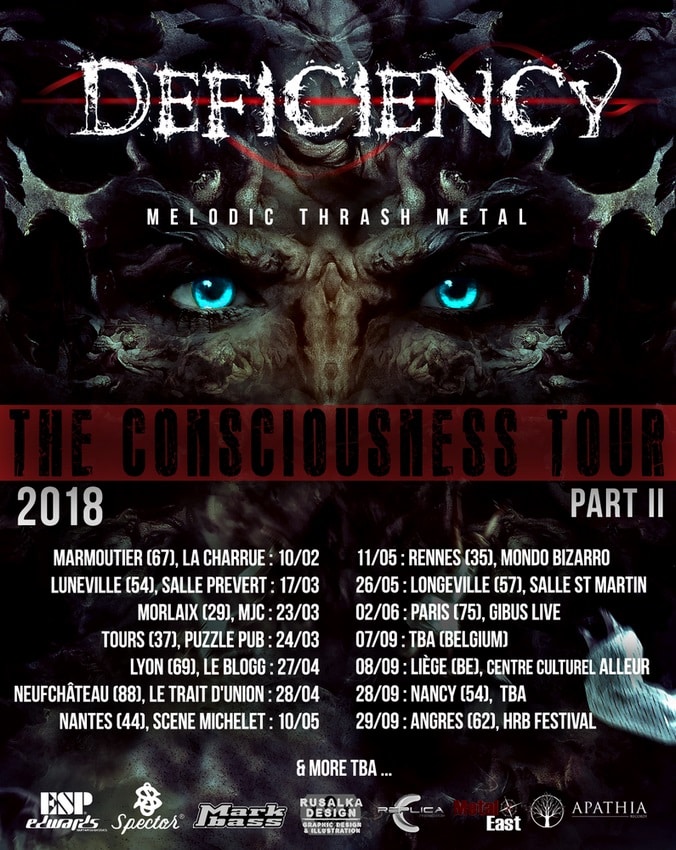 DEFICIENCY news: PARIS-MOVE announce the confirmed dates of the terrific THE CONSCIOUSNESS TOUR – Part II.
Back on the road with Thomas Das Neves, Laurent Gsnn-Deficiency, Vianney Habert et Jérôme Meichelbeck…!!!
Official website: HERE
Official Facebook page: HERE
Line up:
Laurent GISONNA : Lead Guitar/Vocals
Vianney HABERT : Bass guitar
Thomas DAS NEVES : Drums
Jérôme MEICHELBECK : Rhythm Guitar
DEFICIENCY is a French Melodic Thrash Metal band, born in 2008. Both influenced by classic Thrash Metal bands and new waves of Modern Metal, and gives a strong alliance between old school and modern Metal Music.
The band released its first album "State Of Disillusion" in 2011 which was well recieved with positive comments from the professional and the public audience.
After many concerts in France and abroad, opening for Decapitated, Evile or Suicidal Angels, the band records its second album "The Prodigal Child" at the Dome Studio (Lyzanxia, One Way Mirror, T.A.N.K.) with David Potvin who gives a very strong production to Deficiency's music. With this new opus, the band offers 10 songs that push its Melodic Thrash Metal to the very edge of brutality, power and technics, with also a large spectrum of sonorities.
"The Prodigal Child" is a concept-album that let the listener embark on an exciting quest of an intriguing truth about the origin, the fate and the becoming of humanity. The album releases on 10.19.2013 (Fantai'Zic Productions/Socadisc-Absilone distribution) and is available through the main distribution networks. The many reviews of this new album are unanimous, and place DEFICIENCY among the most promising European Thrash Metal formations.
The band starts the long "Prodigal Tour 2013-2015" to defend its new album on stage. The band plays on many festivals ("Lezard'Os Metal Fest", – with Napalm Death, Onslaught, Asphyx…-, "Rock Your Brain Fest" – with Carcass, Destruction, Coroner, Vader…-) and shares the stage with french headliners (Gorod, Benighted, No Return, Bukowski) or international bands like MACHINE HEAD or TESTAMENT.
In March 2015, DEFICIENCY takes place on the "Conquering Europe Tour" with european Thrash masters Suicidal Angels, Angelus Apatrida and Dr.Living Dead. The stage is definitely the place where DEFICIENCY exprimes its whole potentiel and motivation.