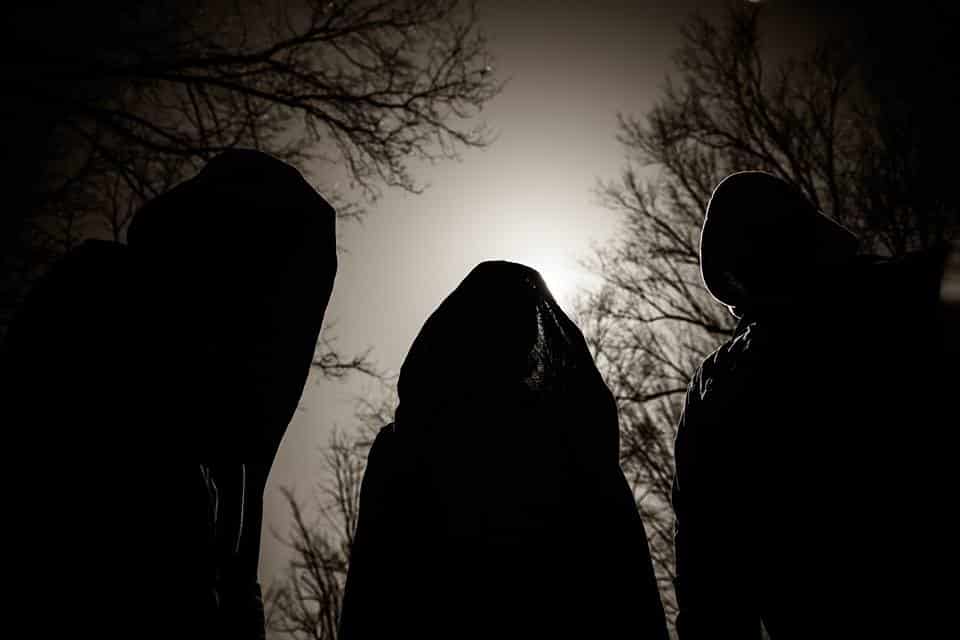 DEATHWHITE are currently unveiling the first single of their forthcoming album, 'For a Black Tomorrow' in the shape of a video clip. The enigmatic bringers of darkness will release their debut full-length on February 23rd, 2018.
The video for the track, "Dreaming the Inverse" is now streaming HERE
.
DEATHWHITE comment: "Our first video foray, 'Dreaming the Inverse' details a man's inability to forgive and his resultant descent into madness after receiving similar treatment from his scorned significant other. While the song itself could be applied to a variety of situations, in this instance, we felt it was necessary to visualize the oftentimes complex dynamic between two people who have effectively wronged each other. We feel the video accomplishes this in more ways than one. Beyond that, we are indebted to director David Brodsky and his team, the video's actors and everyone else who helped make this a reality."
DEATHWHITE are furthermore revealing the artwork and album details of 'For a Black Tomorrow', which can all be found below.
.
Track-list.
1. The Grace of the Dark (4:06)
2. Contrition (4:11)
3. Poisoned (4:56)
4. Just Remember (4:44)
5. Eden (4:13)
6. Dreaming the Inverse (5:01)
7. Death and the Master (6:25)
8. Prison of Thought (5:25)
9. For a Black Tomorrow (4:13)
.
Total playing time: 43:26
American metal is often associated with its rather brutal side in Europe and often taken to involve the terms "death" and "core" by default. With their first album 'For A Black Tomorrow', DEATHWHITE masterly demonstrate that hard sounds from overseas can also be dark, emotional, and subtle. Although the Americans come with an already well matured style very much their own, some rough comparisons are offering a sketchy idea on which paths DEATHWHITE tread.
To say that they combine the melancholic depth of GHOST BRIGADE with a sense of drama that would fit MOONSPELL and a pinch of AMORPHIS for added taste is of course not fully correct, but might give suitable hints.
Formed in 2012, DEATHWHITE were created in part to follow on the path first explored by dark metal torchbearers such as ANATHEMA, KATATONIA, MY DYING BRIDE, and PARADISE LOST.
In 2014, the 'Ethereal' EP successfully established a template of melodic, clean vocals alongside melancholic, but heavy riffing. This debut created an early buzz within the metal underground that grew significantly with the following 'Solitary Martyr' EP (2015), which was hailed by critics as "thick with emotion" and "wonderfully engrossing".
Backed by such praise, DEATHWHITE spent 2016 writing and recording their first full-length under the supervision of producer and engineer Shane Mayer. Listen and let 'For A Black Tomorrow' seduce you to delve deep into its enthralling darkness!
.
Official website: HERE
Official Facebook page: HERE
Official Bandcamp: HERE
Order your record "Solitary Martyr" HERE – Limited Edition CD!!!
Very limited quantity available, the Solitary Martyr CD version (jewel case) includes the entire 2014 Ethereal EP as bonus tracks. Features full artwork from Jérôme Comentale.
.
Tracklisting:
1. Pressure
2. Suffer Abandonment
3. Vain
4. Solitary Martyr
5. Only Imagined
Bonus tracks:
6. Ethereal
7. When I (Wasn't) You
8. Give Up the Ghost
9. Silenced
10. Feeding the Illusion
11. A Burden to Carry