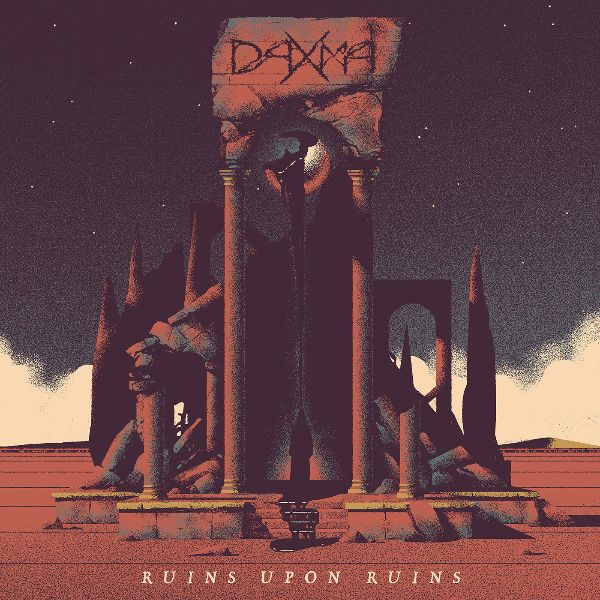 PARIS-MOVE, July 24th 2019 – Oakland Post-Doom Quintet DAXMA is to release "Ruins Upon Ruins" this Friday, July 27th 2019.
Arriving on July 26th, Ruins Upon Ruins is the third and latest release from DAXMA. The EP presents nearly twenty-five minutes of neural captivation that engulfs the emotional borders of past and present, conjoining the personal and the inspirational to highlight the art of critical thought. Bleak, beautiful, and breathtakingly poignant.
DAXMA (pronounced [dahk-muh]) is an Oakland, CA-based band that began in Santa Cruz, in 2014. A collaborative project arising from its members varied musical backgrounds including black metal, psych, and classical, they unite nuance and fragility within a framework of devastating crush. Their cathartic, haunting blend of post-metal and atmospheric doom is certain to resonate with fans of YOB, Godspeed You! Black Emperor, Pelican, and SubRosa.
The band explains a bit about Ruins Upon Ruins: "The title is taken from a line in an essay called 'On the Concept of History' by Walter Benjamin, who, disputing Hegel's notion of history as the story of progress, writes about an angel of history looking backwards towards the past."
The first track, "Minima Moralia," is a meditation of ideological vision, and even as it comports with genre in its progressive and weighted aspects, it looks outside musical confines for inspiration. It says much without the use of lyrics.
It comes accompanied by a re-imagination of the 1975 Fleetwood Mac single "Landslide." The song remains recognizable for its melody and folkish lyric in DAXMA's hands, but is given new breadth in instrumental arrangement and depth as they make it their own.
The standard worldwide release of Volume 2 in Blues Funeral Recordings' PostWax series, Ruins Upon Ruins will be released via digital and a limited edition vinyl on July 26th, with pre-orders available HERE
Facebook page HERE
"Find a quiet space in your mind and hear the lovely darkness that is Ruins Upon Ruins." – CVLT Nation
"Quite beautiful in its mournful heaviness." – Wonderbox Metal
"Captures the beauty of the stars and constantly makes us look inwards as each note gives us another reason to move forward in life." – Headbanger Reviews