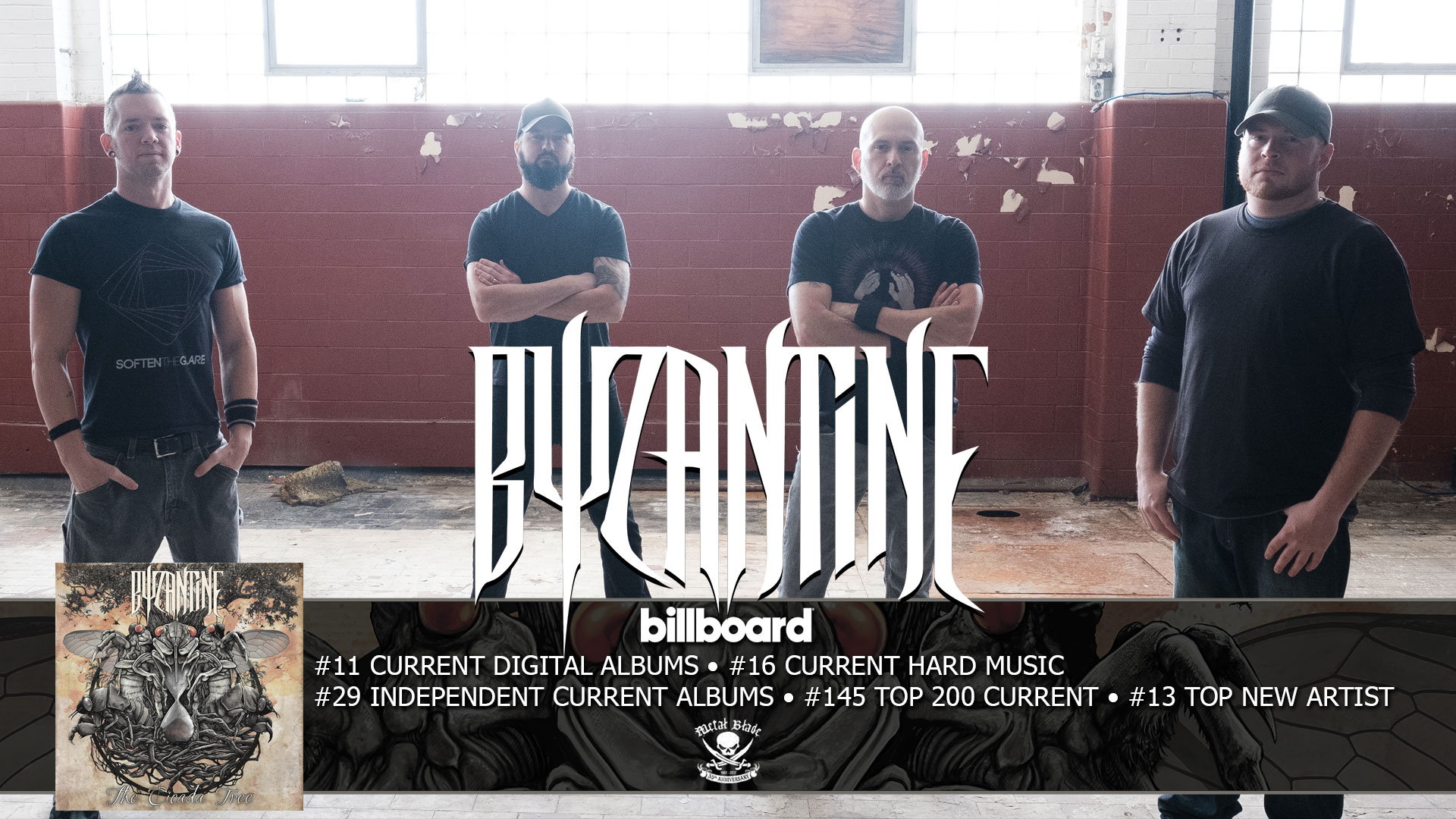 Byzantine – the most underrated band from the New Wave of American Heavy Metal Movement! – recently released their new album, The Cicada Tree, via Metal Blade Records; for their efforts, the band has now entered the Billboard charts! See below for all positions:
#11 Current Digital Albums
#16 Current Hard Music Albums
#29 Record Label Independent Current Albums
#145 Top 200 Current Albums
#13 Top New Artist
To state that The Cicada Tree is "classic Byzantine" in no way implies that this is an album solely rooted in the band's past. Certainly, all of the hallmarks that have made their sound so compelling for close to two decades are present and correct: muscular yet lithe riffs and fluid leads play against gripping, dynamic and at times unpredictable rhythms, while rich melodies and lyrics that are both involved and intelligent wind their way through every track. But, once more, the groove metal unit has continued their steady evolution – the interplay between their members organic and natural, imbuing the record's sixty-two-minute running time with a freshness and urgency. Founding member Chris "OJ" Ojeda states, "The first few albums, you're trying to find your sound, and sometimes you tend to not see the forest for the trees. Now, on album number six, it seems a calmness took hold during the songwriting process, possibly from just having more confidence in our sound. At this point, our fans expect us to experiment and push our boundaries, which is an extremely liberating feeling."
To know more about The Cicada Tree record, please visit HERE , on PARIS-MOVE.
To preview and purchase The Cicada Tree, please visit HERE.
Byzantine tour dates (headlining shows):
Aug. 19 – Johnson City, TN – Capone's
Sept. 1 – Baltimore, MD – Sidebar
Sept. 2 – Richmond, VA – The Canal Club
Byzantine tour dates w/ Sacred Reich:
Sept. 14 – Santa Ana, CA – The Observatory w/ Hirax, Yidhra
Sept. 15 – Los Angeles, CA – The Roxy Theatre w/ Hirax, Yidhra
Sept. 16 – San Francisco, CA – Slim's w/ Yidhra
Sept. 18 – Denver, CO – Marquis Theater
Sept. 19 – Kansas City, MO – The Riot Room
Sept. 20 – Chicago, IL – Reggie's
Sept. 21 – Toronto, ON – Opera House
Sept. 22 – Montreal, QC – Les Foufounes Electriques
Sept. 23 – Boston, MA – Brighton Music Hall
Sept. 24 – New York, NY – Gramercy Theater
Sept. 25 – Philadelphia, PA – Voltage
Sept. 27 – Atlanta, GA – Masquerade
Sept. 28 – New Orleans, LA – Southport Hall
Sept. 29 – Dallas, TX – Trees
Sept. 30 – Houston, TX – Scout Bar w/ Slim
Oct. 1 – San Antonio, TX – Rock Box