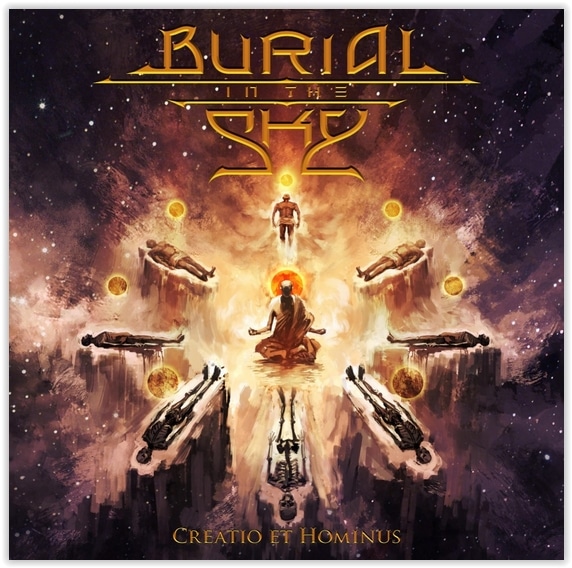 Great news from BURIAL IN THE SKY: new album "Creatio et Hominus" is out June 1st 2018!
Pre-orders for Creatio et Hominus are now live HERE
Seasoned atmospheric tinged progressive/technical death metal outfit Burial In The Sky recently announced their forthcoming sophomore full-length, Creatio et Hominus. The album Creatio et Hominus is set for release on Friday, June 1st 2018. The Mount Carmel, Pennsylvania based group established a name for themselves with the release of their 2016 debut, Persistence Of Thought, which was enhanced by the advanced session drumming of Decrepit Birth member Samus Paulicelli.
For their new album Creatio et Hominus, Burial In The Sky picked up drummer Sam Stewart who also plays piano on the group's upcoming album. At the same time, the band added bassist  and saxophonist Zach Strouse who contributed all of the highly praised saxophone playing found on River Of Nihil's new album, Where Owls Know My Name. The recent last-minute addition of longtime Cognitive (Unique Leader Records) vocalist Jorel Hart rounds out the new album's line-up which begins with founding member, guitarist and multi-instrumentalist James Tomedi. Like his multi-talented bandmates, James contributes much outside of his main guitar role, adding Slide Guitar, Keys, Mandolin, and Kalimba to the new album's sonic arsenal.
You can check out Burial In The Sky – "Nautilus' Cage" HERE
Toilet Ov Hell says regarding today's premiere of "Nautilus' Cage"
"I know a lot of people prefer to keep their feet (and ears) firmly on the ground instead of getting a musical tour of the astral plane. But I also know that this particular subgenre is young enough that everyone doing it is exploring it in their own unique way, and I think anyone who gives a real listen to them will find at least one they like. "Nautilus' Cage" is the embodiment of these ideas. It's creative and progressive, only indulgent in the atmosphere it creates. While it explores some unconventional rhythms, the band never seeks to overwhelm you with technical prowess, and the emotional swell this song comes to near its end is nothing short of masterful. The idea of relaxing death metal is still an odd one even in the current diverse musical landscape, but Burial In The Sky make it work somehow.​"
Creatio et Hominus Tracklisting:
1. Nexus
2. Tesla *All vocals by ex-vocalist Jimmy Murphy
3. Nautilus' Cage
4. The Pivotal Flame
5. Psalms Of The Deviant
6. 5 Years
7. Creatio et Hominus (Ft. a guest solo from Brody Uttley of Rivers Of Nihil)
Burial In The Sky – Creatio et Hominus Line-up
James Tomedi – Guitars, Slide, Keys, Mandolin, Kalimba
Zach Strouse – Bass Guitar, Sax (All Sax playing on the new Rivers Of Nihil)
Sam Stewart – Drums, Piano
Jorel Hart – Vocals (ex-Cognitive, live bass for Wormhole)
Jimmy Murphy – Vocals on Tesla (only)
Pre-orders for Creatio et Hominus are now live HERE
Official Facebook page: HERE