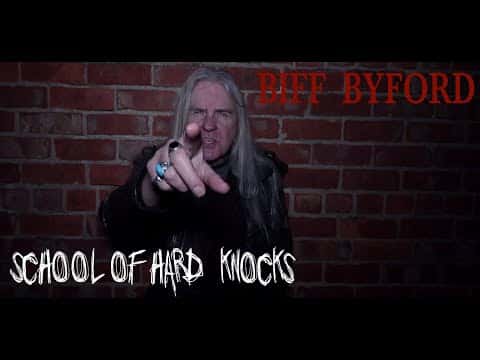 PARIS-MOVE, December 15th 2019 – BIFF BYFORD presents the video for the single "School of Hard Knocks", and BIFF BYFORD confirms his first solo album "School of Hard Knocks" for February 21st 2020 at Silver Lining Records.
"The title track to the album is basically biographical about my early years…" says Biff. "Have a listen to the lyrics – hope you all like it!"
Biff Byford – School of Hard Knocks (Official Video) HERE
With his roots firmly in The North of England, Biff has earned the right to be considered The Heavy Metal Bard Of The North and his debut album reflects the man and his personality, his loves and his musical versatility.
School Of Hard Knocks fulfils Biff Byford's long-standing wish to explore rock 'n' roll a little more. The album is a personal journey highlighting his life and his passionate interests, from the history of the Middle Ages to growing up in the industrial North. A classic, masterfully constructed old-school British hard rock album, School Of Hard Knocks embraces a variety of musical genres and includes the Yorkshire folk classic Scarborough Fair, famously covered by Simon and Garfunkel. Byford and Fredrik Åkesson's arrangement breathes new life into the legendary song.
Biff says: "With this album I'm singing about my past, of course, and about things I like, but mostly I wanted it to reflect me, my personality and my life."
Order the limited edition silver 12″ Vinyl  HERE
Also includes:
Exclusive signed photo of Biff Byford
Exclusive 7″ single of 'Scarborough Fair'
Album download code.
Limited to 300 copies!!!!
School Of Hard Knocks features Biff Byford on vocals (and a spot of four string thunder) along with Fredrik Åkesson (Opeth) on guitars, drummer Christian Lundqvist and bass player Gus Macricostas. The album also features guest appearances by Phil Campbell (Motörhead/Phil Campbell & The Bastard Sons), Alex Holzwarth (Rhapsody of Fire and Turilli / Lione Rhapsody), Nick Barker (Voices), Dave Kemp (Wayward Sons) and Nibbs Carter (Saxon). The album was produced by Biff Byford, recorded by Jacky Lehmann at Brighton Electric Studios in Brighton (UK) and mixed at Queen Street Studios in Stockholm (Sweden) by Mats Valentin.
About Biff Byford:
As a teenager Biff played bass for a number of groups in the Barnsley area while working at a colliery during the day. One of the bands included guitarist Paul Quinn with whom Biff would form Saxon. With Biff now focusing on lead vocals, Saxon released their eponymous debut album in 1979 becoming one of the new wave of British heavy metal bands.
Saxon quickly gained popularity and scored no less than eight consecutive UK Top 40 albums and five Top 40 singles between 1980 and 1988. Wheels Of Steel (1980) reached Number 5 in the UK album chart and achieved Platinum status.
Ever popular in Europe, and particularly in Germany, Saxon continued to be at the forefront of the British heavy metal scene and returned to the UK charts with their 2007 album The Inner Sanctum. Saxon's 2018 album Thunderbolt was their first to reach the Top 30 album chart in 30 years and became their highest charting album in Germany and Switzerland reaching the Top 10 in both countries.
Available to pre-order on CD, Vinyl, Digital formats and special D2C bundles HERE
Facebook page HERE
Photos of Biff Byford Live are under copyright: © Jacky Moutaillier