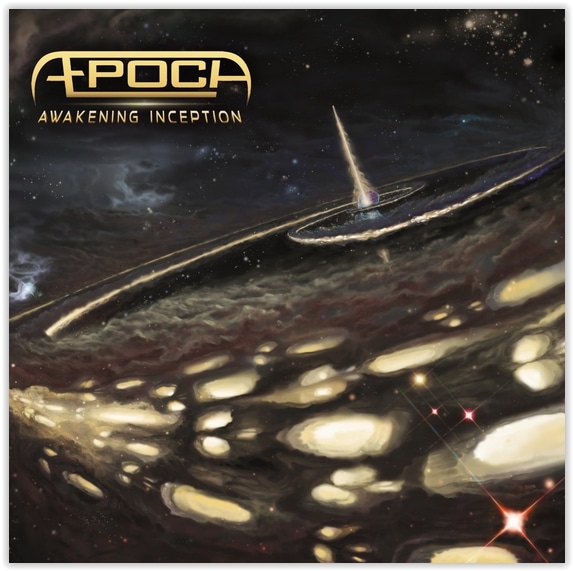 ÆPOCH: Canadian Tech/Prog-Death Group Premiere "Tabula Rasa" At Toilet Ov Hell. Album out April 13th 2018!
Ontario natives Æpoch recently announced their forthcoming debut album, Awakening Inception. Set for release on Friday, April 13th. Æpoch has built up a well developed and unique spin on progressive death metal that incorporates black metal, thrash, lot's of melody, and technical death metal elements inside of a progressive focused songwriting style.
Æpoch will embark on an extended Canadian Tabula Rasa tour with UK death metal titans Bloodshot Dawn from April 17th – May 1st.
Dates and info here:
Today the band partnered with ToiletOvHell to premiere "Tabula Rasa" the first single to air so far from Awakening Inception. The album comes loaded with killer guest spots from Hideous Divinity vocalist Enrico Di Lorenzo, Equipoise/ex-Vale of Pnath vocalist Stevie Boiser, a guest solo from Wormhole/Equipoise guitarist Sanjay Kumar, guest vocals from Callum Clark of Ending Tyranny, and a guest solo from Bleak Flesh guitarist Matias Quiroz.
You can listen to Æpoch – "Tabula Rasa" HERE
Toilet Ov Hell says regarding the premiere of Æpoch – "Tabula Rasa":
"Keeping in line with their no-nonsense playing style while drawing from sounds across the metal spectrum, "Tabula Rasa" opens up with a riff that would sound right at home on a laid-back doom record. Even as they turn those single notes into power chords and transition into a punchier Phrygian riff, the pace set by the drums keeps that laid-back feeling going. Their sense of escalation is impeccable, gradually easing you into heavier riffs before hitting you with the weird stuff. The slight discrepancies in intonation during the fretless bass-driven interlude increase its already unsettling feeling without being distracting, and it flows seamlessly from the alien back to the familiar shortly thereafter.
Between the songwriting, that fantastic tone, and the plethora of guest appearances (including members from Equipoise, Wormhole, and Bleak Flesh), Awakening Inception is going to be an album to watch."
Pre-orders for Awakening Inception are now live HERE
Comes in a jewel case with a 4 panel booklet. Art by Justin Abraham and Logo by Arpad Korenci. Layout by Malcolm Pugh.
Æpoch is:
Greg Carvalho – Drums (Brazen Bull, ex Ostium Nex, live for Becomes Astral)
Brett MacIntosh – 5 string Fretless Bass / Lead Vocals (Brazen Bull)
Kyle Edissi – Guitar / Backing Vocals (on "Time: Perspective" & "The Expiration") (Invicta, Raider)
Taylor Wroblewski – Guitar (Brazen Bull)
Official Facebook page: HERE
On line SHOP: HERE