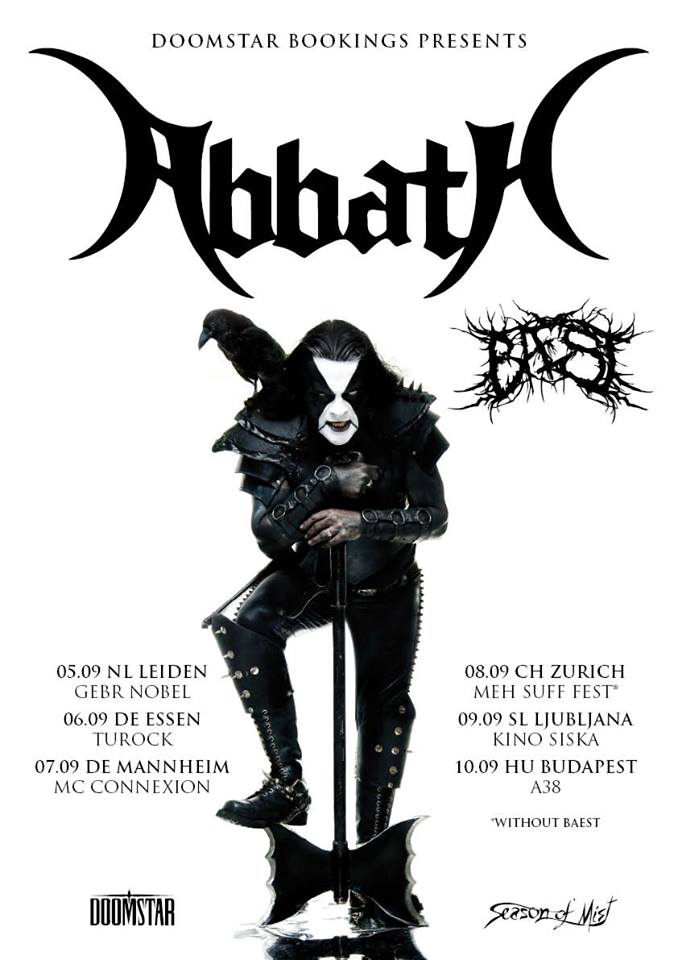 Following their European festivals performances this summer, ABBATH have announced extra tour dates in September with Danish metallers BAEST. The tour sees the Norwegian band play a selected number of club shows in the Netherlands, Germany, Slovenia and Hungary. The tour also includes an appearance at the MEH SUFF! Festival in Zürich, Switzerland.
A list of all currently confirmed dates including festivals can be viewed below!
Festival dates:
22 Jul 18 Colony (IT) Colony Open Air
10 Aug 18 Villena (ES) Leyendas Del Rock
19 Aug 18 Saint-Nolff (FR) Motocultor Festival
25 Aug 18 Crispendorf (DE) Wolfzeit Festival
08 Sep 18 Zürich (CH) Meh Suff Fest
Club shows with BAEST:
05 Sep 18 Leiden (NL) Gebr. Nobel – tickets
06 Sep 18 Essen (DE) Turock – tickets
07 Sep 18 Mannheim (DE) MC Connexion – tickets
09 Sep 18 Ljubljana (SL) Kino Siska – tickets
10 Sep 18 Budapest (HU) A38 – tickets
ABBATH will be touring in support of their chart-storming eponymous debut album.
Artwork and track-list of 'Abbath' can be viewed below.
Track-lits:
01. To War!
02. Winterbane
03. Ashes of the Damned
04. Ocean of Wounds
05. Count the Dead
06. Fenrir Hunts
07. Root of the Mountain
08. Endless
09. Nebular Ravens Winter [bonus]
When Abbath announced that he had left IMMORTAL, it sent massive shockwaves through the metal scene. The iconic frontman had long become the "face" of the Norwegian black scene, his image synonymous with this style.
Now the Norwegian giant has returned with his new band ABBATH and a crushing debut album of the same name. The opening triplet "To War", "Winter Bane", and "Ashes of the Damned" unleashes all the fury of a Nordic blizzard at full force. Yet the following "Ocean of Wounds" proves that his new band is equally at home in writing anthemic mid-tempo hymns. Abbath's characteristic riffing shines clearly through it all: heavy, harsh, and yet catchy and melodic with a touch of epic BATHORY, MOTÖRHEAD, and even KISS.
'Abbath' impresses from start to finish. This is exactly the album that all fans of this particular Bergen brand of black metal have been hoping for. Hold on tight or get blown away. ABBATH are here now and ready to conquer the world!
Line-up:
Abbath: guitar & vocals
Creature: drums
Official Facebook page: HERE
Website: HERE